Conundrum Press Launch!
November 15, 2019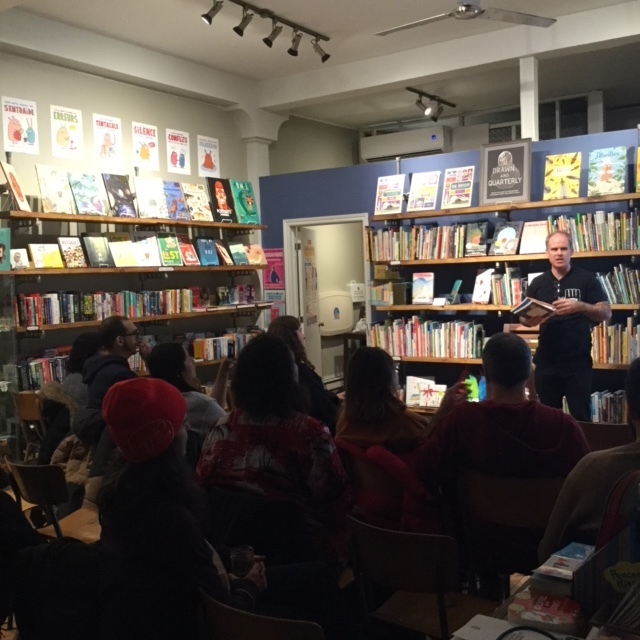 It was a full house tonight for a fantastic Conundrum Press launch! We welcomed Sherwin Tjia, Kris Bertin and Alexander Forbes, Cole Pauls and Howard Chackowicz to La Petite for a series of slide shows and talks.
First up were Kris Bertin and Alexander Forbes, who brought us into the world of their new book The Cursed Hermit by giving us a rundown of the Knotty Pines School for Boys and Girls. "If you see something strange remember that it's cold and flu season! Talk to the headmistress - she'll give you some tea to straighten you out!"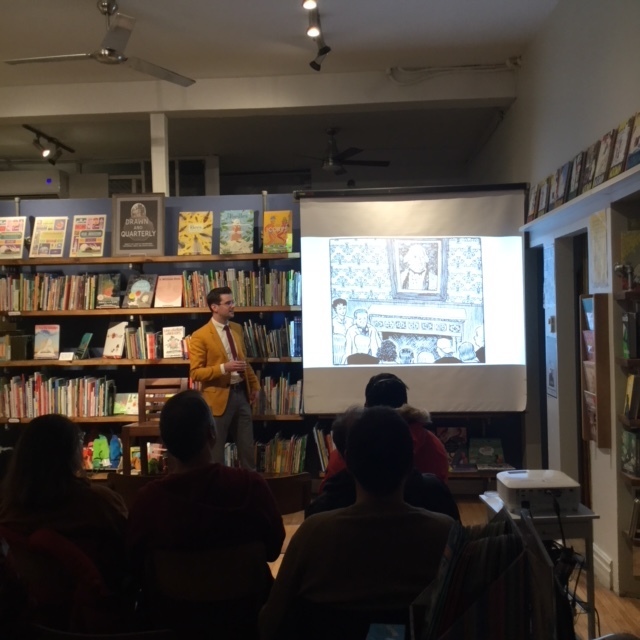 On a more sombre note, Sherwin Tjia introduced Plummet by talking about how the book was inspired by the falling people of 9/11 "which is very dark but these are very dark times". The surreal experience appealed to Tjia as a subject for his graphic novel: a moment where "time slows down and stretches out artificially". What if one could fall forever? The process of developing the illustrations for the book were explained as sketches were shown.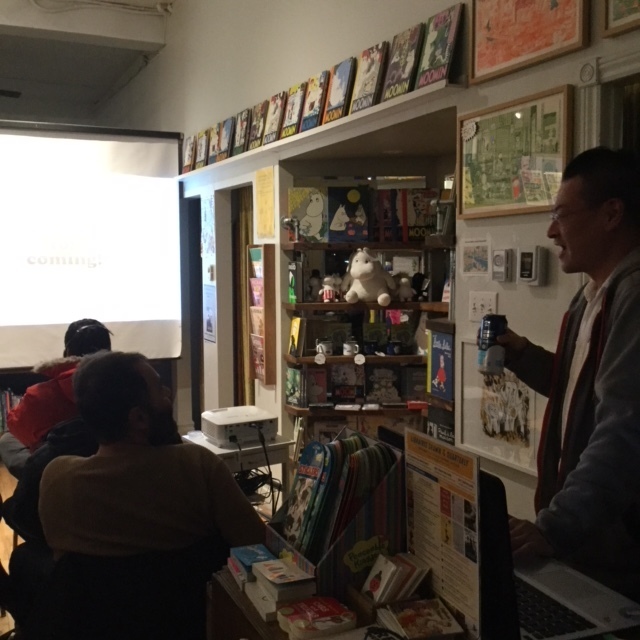 Howard Chackowicz, whose new book Nothing to See Here arrived hot off the press, presented a random smattering of gag drawings that had the audience laughing! Welcome to Fish Town everyone!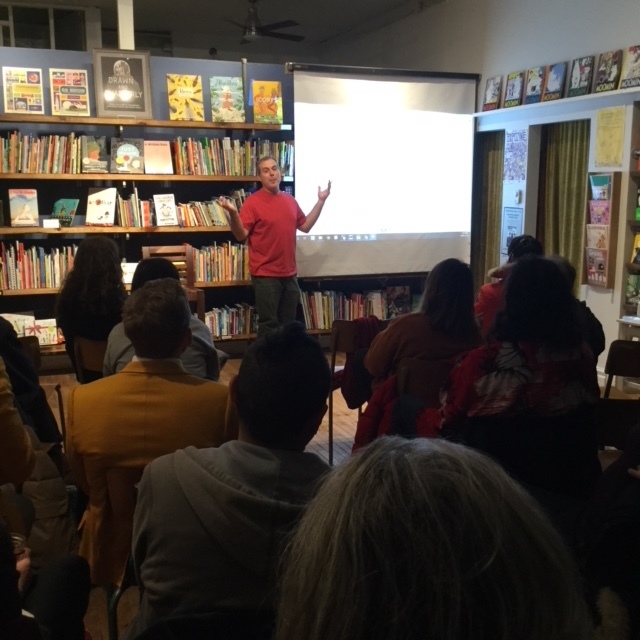 Cole Pauls came all the way from Vancouver to talk to us about his wonderful Dakwakada Warriors. He gave us an overview of the different aspects of his book and its origins. We learned about the Southern Tutchone and Tahltan, and the Aishihik dialect used in the graphic novel as Pauls told us about his language teacher/collaborators.
A terrific evening was had by all!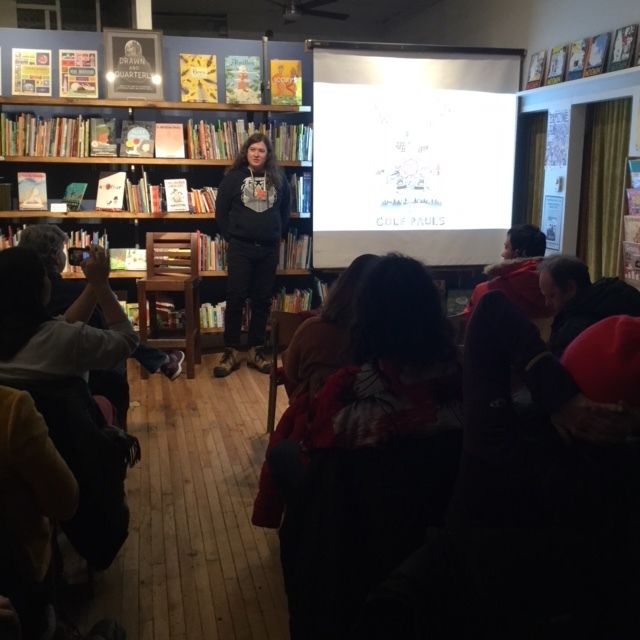 If you weren't able to brave the elements for this evening's launch, be sure to stop by for a signed copy before they run out!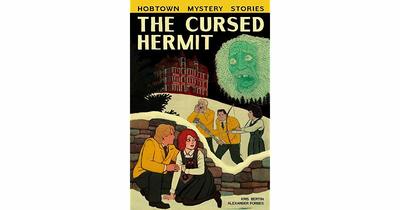 Cursed Hermit, The
Kris Bertin
The highly-anticipated follow-up to The Case of the Missing MenWill our Teen Detectives untangle the mystery of Knotty Pines--before it's too late? Reeling from...
More Info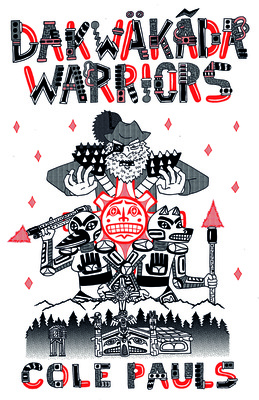 Dakwakada Warriors
Cole Pauls
Indigenous protectors use language revitalization to save the Earth from evil pioneers and cyborg sasquatches Artist Cole Pauls wanted to reclaim the Southern Tutchone...
More Info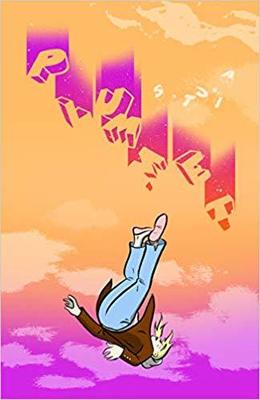 Plummet
Sherwin Tjia
Take the plunge into a post-apocalyptic nightmare.When Amelia "Mel" Eichenwald wakes up one morning, she finds herself in endless freefall towards an Earth that...
More Info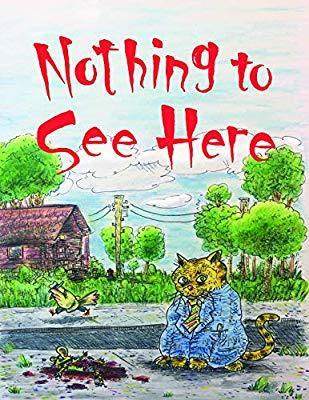 Nothing to See Here
Howard Chackowicz
Nothing to See Here is the highly-anticipated continuation of Chackowicz's Howie Action Comix series. In the spirit of Ivan Brunetti, his one-page gags convey...
More Info