New books in this week: Dali's never-made Marx Brothers film, Claudia Rankine, and The Knowledge Economy
March 20, 2019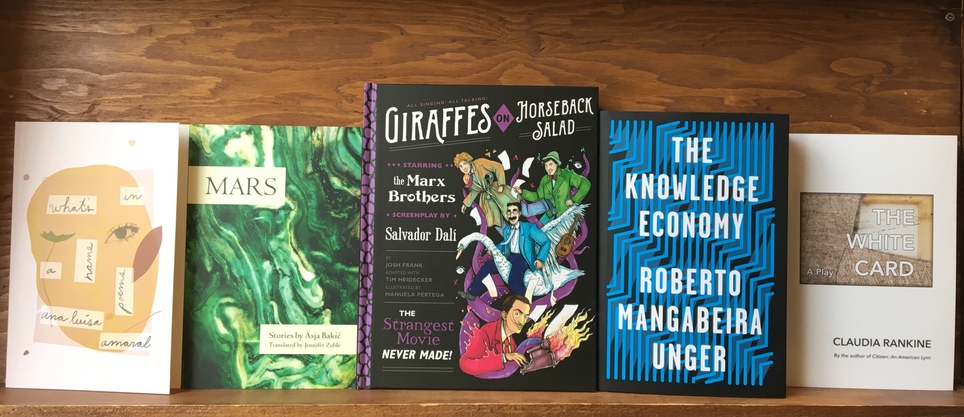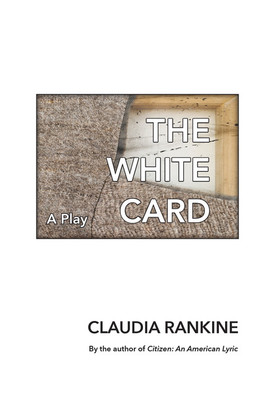 The White Card
Claudia Rankine
A play about the imagined fault line between black and white lives by Claudia Rankine, the author ofCitizenThe White Cardstages a conversation that is...
More Info
The White Book. Claudia Rankine
Poet and noted Genius (MacArthur Fellow) Claudia Rankine offers us her first published play - it delves into the ways in which white people discredit their whiteness. Originally performed in Boston, the piece features a wealthy white philanthropic couple interested in acquiring the work of an established black artist. What follows are various confrontations about privilege, representation, complicity, and what falls between.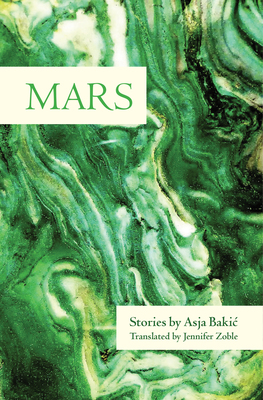 Mars
Asja Bakic
Mars showcases a series of unique and twisted universes, where every character is tasked with making sense of their strange reality. One woman will...
More Info
Mars: Stories, Asja Bakić, trans. Jennifer Zoble
This is a thrilling debut from Bosnian poet, writer and translator Asja Bakić. Compared to the stylings of George Saunders, Edgar Allen Poe, and Marge Piercy, she plays with sci-fi tropes and speculative narratives in ways that feel darkly imaginative and exhilarating.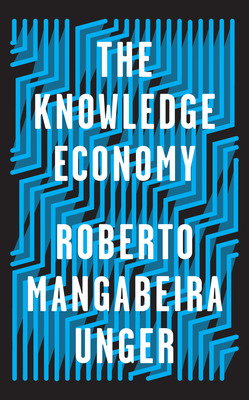 The Knowledge Economy
Roberto Mangabeira Unger
Revolutionary account of the transformative potential of the knowledge economyAdam Smith and Karl Marx recognized that the best way to understand the economy is...
More Info
The Knowledge Economy, Roberto Mangabeira Unger
As both a philosopher and politician in Brazil and the US, Unger is interested in how knowledge is produced, enacted upon, and who is allowed to participate in this economy. He writes on how insidiously the knowledge economy infiltrates all aspects of public life: education, culture, politics, and finance.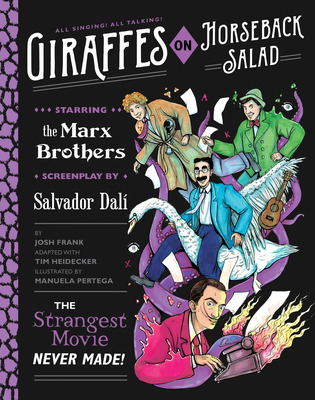 Giraffes on Horseback Salad
Josh Frank, Tim Heidecker
Surrealism meets Hollywood meets film history in this graphic novel, which turns an unproduced script by Salvador Dali into a fantastic comedy starring Groucho,...
More Info
Giraffes on Horseback Salad: Salvador Dali, the Marx Brothers, and the Strangest Movie Never Made, Josh Frank, Tim Heidecker, illus. Manuela Pertega
A riotous graphic adaptation that brings to life the long lost, never made Dali film Giraffes on a Horseback Salad. Intended to star the Marx Brothers, it was to be a wickedly surrealist film of life manifested through dreams, fantasies and wishes. This book serves as a fascinating re-imagined artifact of the 1930s and of an art movement that wanted so badly to bend the logics of reality.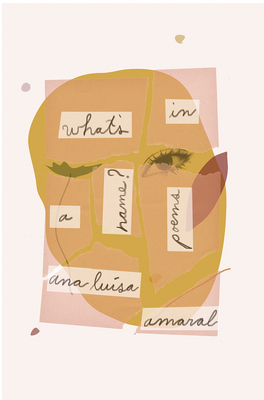 What's in a Name
Ana Luisa Amaral
With the elliptical looping of a butterfly alighting on one's sleeve, the poems of Ana Luisa Amaral arrive as small hypnotic miracles. Spare and...
More Info
What's in a Name: Poems, Ana Luisa Amaral, trans. Margaret Jull Costa
With the original Portuguese to the left and the translated English to the right, this collection of poems beautifully weaves together myths, histories, voyages, and language with elegant ease. Amaral wears her attentiveness on her sleeve, deftly considering her place at home, in her city, and in the wilds.