Reading Across Borders Book Club: Death's End by Liu Cixin
September 7, 2018
The Reading Across Borders Book Club focuses on literature in English translation, with a particular interest in writers who are not (yet) well-known in the English-speaking world. Hosted by Helen Chau Bradley, the book club meetings take place every month or two, and are open to the public.
For our next meeting, on Tuesday, October 9, we will meet at La Petite Librairie Drawn & Quarterly (176 Bernard O.) at 7 pm to discuss Liu Cixin's Death's End, translated from the Chinese by Ken Liu. Join us for discussion and drinks!
NOTE: The Dark Forest is the third book in Liu's Remembrance of Earth's Past trilogy. You are encouraged but certainly not required to read preceding books in the trilogy: The Three-Body Problem and The Dark Forest, both also available at the store.
**We offer a 20% discount on Death's End from now until the meeting date.***
Death's End is the final book in Liu Cixin's Remembrance of Earth's Past trilogy, which has shot to fame as a new classic of contemporary Chinese science fiction, garnering a level of interest in the mainstream that is rare for the genre. In the interest of not giving spoilers for those who haven't yet read the first two books in the series, let's just say that Liu's writing is philosophically intriguing, scientifically robust yet accessible to the less scientifically-inclined, poetic, political, and marked by a sense of the staggering vastness of the universe. Liu worked for 30 years as a software engineer at a power plant in Shanxi as a way to support his writing, and has published more than a dozen books to date. Death's End promises to be a time-expanding, mind-boggling conclusion to his gripping series.

We regret that the bookstore is not wheelchair accessible. There is a step at the entrance, followed by a half step and a door that opens inward. Once inside, there are no additional steps to access the bathroom, although the bathroom space is narrow. The bathroom is gender-neutral. Beer and sparkling water will be served.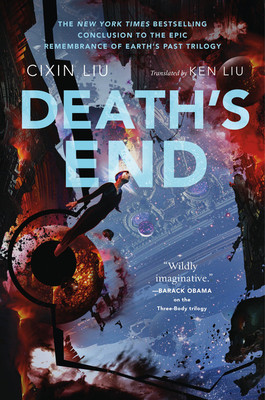 Death's End
Cixin Liu
TheNew York Timesbestselling conclusion to a tour de force near-future adventure trilogy from China's bestselling and beloved science fiction writer.WithThe Three-Body Problem, English-speaking readers...
More Info