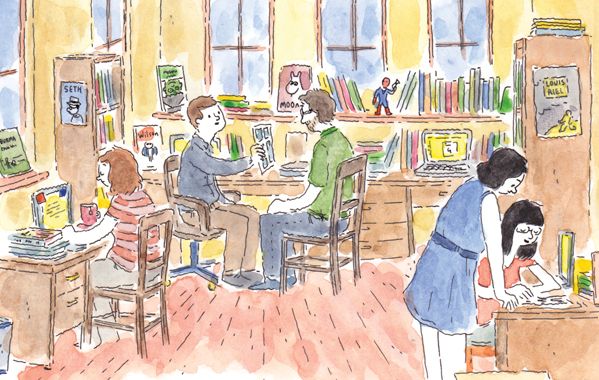 About Drawn & Quarterly
Our History
Over the course of several decades, Drawn & Quarterly has grown from a single-issue magazine to an internationally renowned publisher of the world's best cartoonists. D+Q has published many North American luminaries of the medium including Adrian Tomine, Lynda Barry, Daniel Clowes, Chris Ware, Kate Beaton, Chester Brown, and Seth, as well as international authors including Tove Jansson (Finland); Guy Delisle (France); Tom Gauld (UK); Astrid Lindgren (Sweden); Yoshihiro Tatsumi (Japan); Rutu Modan (Israel); Shigeru Mizuki (Japan); and many more cartoonists from across the globe. The company's dedication to high production values, editorial integrity, and artistic autonomy has led to it being described by Time as "the most elegant comics publisher in North America."
Publishing Headquarters
7030 Saint Denis
Montreal, QC H2S 2S4
514-279-2221
Montreal Stores
In 2008, D+Q opened its flagship store Librairie D+Q and revitalized the independent book retail landscape in Canada and in Montreal, providing a home to not just graphic novels from around the world but independent prose, poetry and more. In 2017, La Petite Librairie D+Q was opened, which during the day is Montreal's only kids store and at night hosts a range of literary events. Both are in the Mile End neighbourhood of Montreal, the very same neighbourhood where the company was founded in 1989 by Chris Oliveros.
Librairie Drawn & Quarterly would like to acknowledge that our events and bookstores are located on the unceded territory of the Kanien'kehá:ka. Many of us refer to Montreal as our home, but it is named Tiohtiá:ke. It has always been a gathering place for many First Nations and continues to be home to a diverse population of Indigenous peoples. We are grateful that creating and sharing stories has been a part of this land for thousands of years.
Events Gallery
Some of the notable events held at our bookstores:
Margaret Atwood • Paul Auster • Peter Bagge • Lynda Barry • Kate Beaton • Alison Bechdel • Shary Boyle • Carrie Brownstein • Charles Burns • David Byrne • David Chariandy • Alexander Chee • Daniel Clowes • Guy Delisle • Julie Doucet • Matt Forsythe • Neil Gaiman • Roxane Gay • William Gibson • Gilbert Hernandez • Sheila Heti • Dave Hill • Chelsea Hodson • Marlon James • Heidi Julavits • Miranda July • Chris Kraus • Ben Lerner • Marc Maron • Yann Martel • Eileen Myles • Bryan Lee O'Malley • Heather O'Neill • Michael Ondaatje • Buffy Sainte-Marie • Leanne Shapton • Zadie Smith • Art Spiegelman • Gloria Steinem • Jillian Tamaki • Amber Tamblyn • Raina Telgeimeier • Madeline Thien • Adrian Tomine • Alexandre Trudeau • Chris Ware • Zoe Whittall • Jenny Zhang

Interested in pitching an event to Librairie D+Q?