Non-Fiction A-Z!
April 9, 2020
We're always looking for new ways to showcase books that we love, now that our bricks and mortar store is operating entirely online! We've already brought you Comics & Fiction & today we bring you Non-Fiction A-Z!
All books showcased are in store now! (at the time of writing, that is) & we can ship to Canada-wide!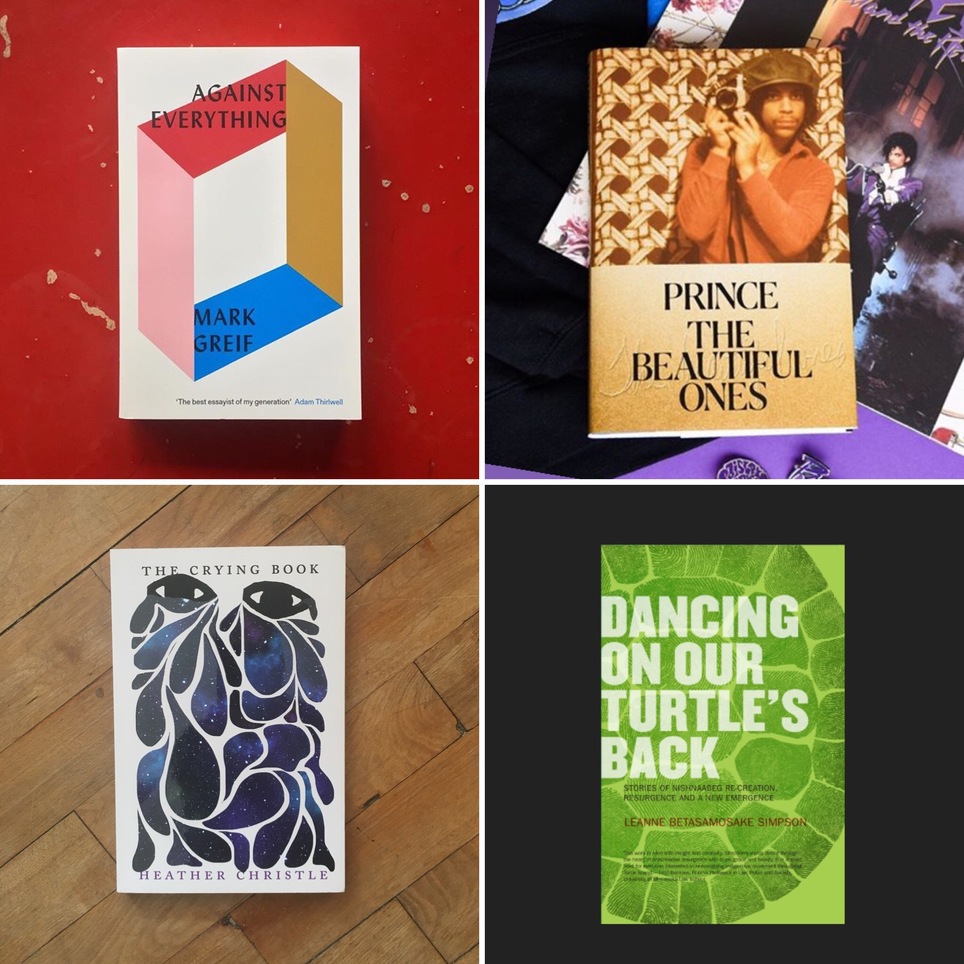 A - Against Everything by Mark Grief
Key topics are the tyranny of exercise, the folly of food snobbery, the sexualization of childhood (and everything else), the philosophical meaning of pop music, the rise and fall of the hipster, the uses of reality TV, the impact of protest movements, and the crisis of policing. Four of the selections address, directly and unironically, the meaning of life—how to find a philosophical stance to adopt toward one's self and the world.
B -The Beautiful Ones - Prince
The Beautiful Ones is the story of how Prince became Prince—a first-person account of a kid absorbing the world around him and then creating a persona, an artistic vision, and a life, before the hits and fame that would come to define him. The book is told in four parts. The first is the memoir Prince was writing before his tragic death, pages that bring us into his childhood world through his own lyrical prose.
C- The Crying Book - Heather Cristine
As Christie faces her grief and impending parenthood, she decides to research the act of crying: what it is and why people do it, even if they rarely talk about it. Along the way, she discovers an artist who designed a frozen-tear-shooting gun and a moth that feeds on the tears of other animals. She researches tear-collecting devices (lachrymatories) and explores the role white women's tears play in racist violence.
D -Dancing on our Turtle's Back - Leanne Betasamosake Simpson
Many promote Reconciliation as a "new" way for Canada to relate to Indigenous Peoples. In Dancing on Our Turtle's Back: Stories of Nishnaabeg Re-Creation, Resurgence, and a New Emergence activist, editor, and educator Leanne Betasamosake Simpson asserts reconciliation must be grounded in political resurgence and must support the regeneration of Indigenous languages, oral cultures, and traditions of governance.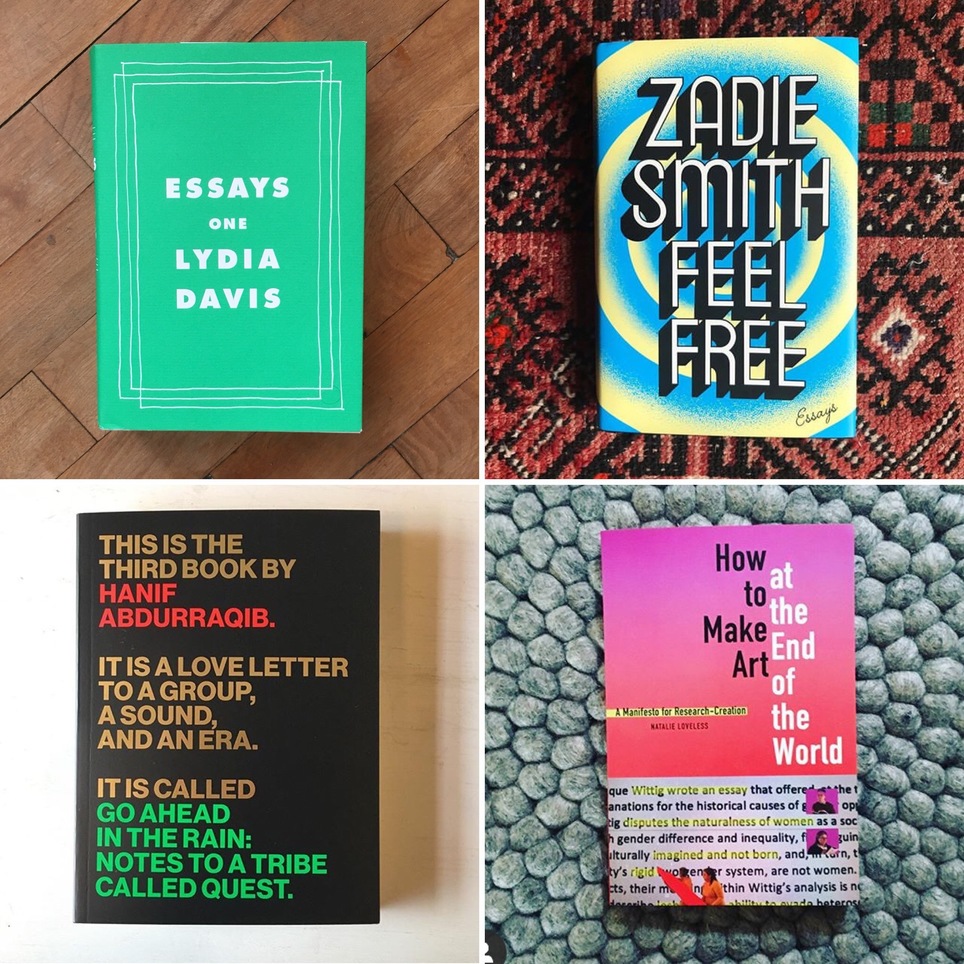 E - Essays One by Lydia Davis
A selection of essays on writing and reading by the master short-fiction writer Lydia Davis. Her subjects range from her earliest influences to her favorite short stories, from John Ashbery's translation of Rimbaud to Alan Cote's painting, and from the Shepherd's Psalm to early tourist photographs. On display is the development and range of one of the sharpest, most capacious minds writing today.
F - Feel Free by Zadie Smith
How much joy can a person tolerate? How many kinds of boredom make up a life? Who owns the story of black America? Should Justin Bieber be more like Socrates? And why is there a dead art collector floating in the swimming pool?

Dazzlingly insightful, explosively funny and ever-timely, Zadie Smith is back with a second unmissable collection of essays. From German Old Masters to the new masters of East Coast rap, from social networks opening lines of communication to national referenda closing doors, Feel Free reaches out in all directions and draws back a rich feast of ideas. Here pop culture, high culture, social change and political debate all get the Zadie Smith treatment: dissected with razor-sharp intellect, set brilliantly against the context of the utterly contemporary, and considered with a deep humanity and compassion.

G - Go Ahead in the Rain: Notes to a Tribe Called Quest by Hand Abdurraqib

Abdurraqib traces the seminal rap group brought jazz into the genre's creative career, from their early days as part of the Afrocentric rap collective known as the Native Tongues, through their first three classic albums, to their eventual breakup and long hiatus. Their work is placed in the context of the broader rap landscape of the 1990s, one upended by sampling laws that forced a reinvention in production methods, the East Coast–West Coast rivalry that threatened to destroy the genre, and some record labels' shift from focusing on groups to individual MCs.
H - Hot to Make Art at the End of the World by Natalie Loveless
Natalie Loveless draws on diverse perspectives—from feminist science studies to psychoanalytic theory, as well as her own experience advising undergraduate and graduate students—to argue for research-creation as both a means to produce innovative scholarship and a way to transform pedagogy and research within the contemporary neoliberal university. Championing experimental, artistically driven methods of teaching, researching, and publication, research-creation works to render daily life in the academy more pedagogically, politically, and affectively sustainable, as well as more responsive to issues of social and ecological justice.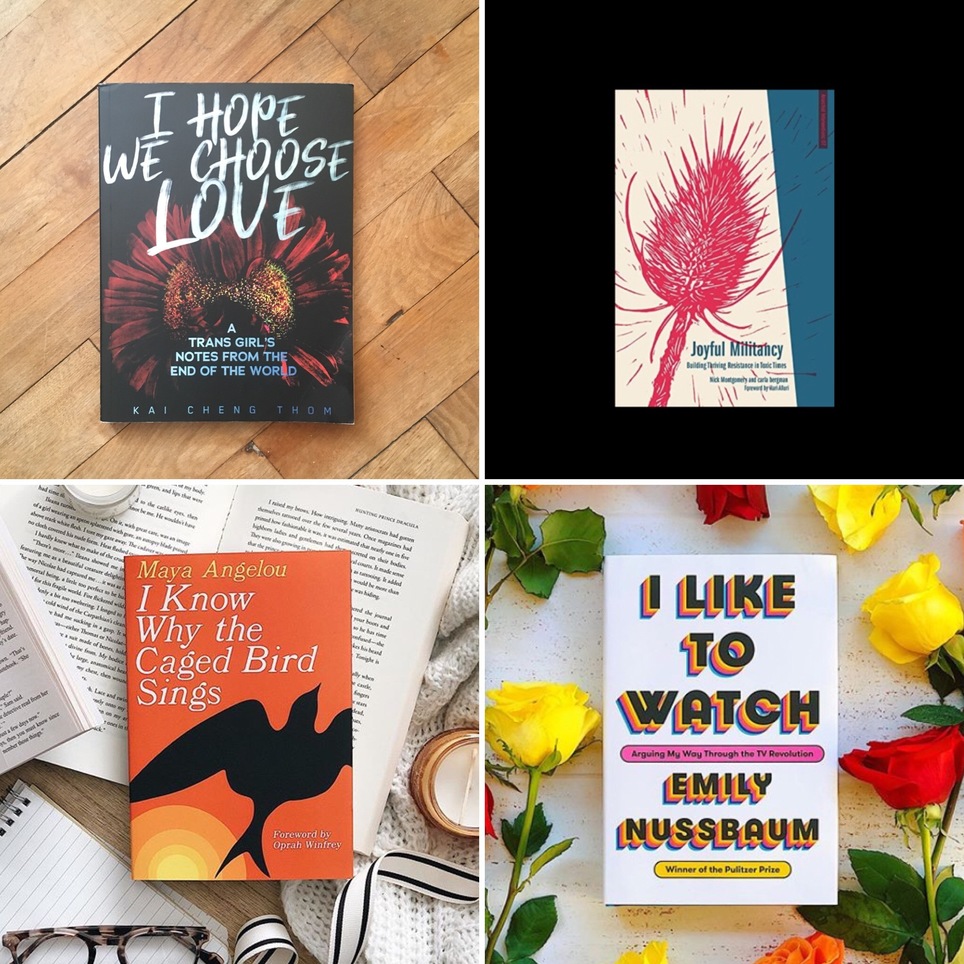 I - I Hope We Choose Love by Kai Cheng Thom
What can we hope for at the end of the world? What can we trust in when community has broken our hearts? What would it mean to pursue justice without violence? How can we love in the absence of faith?
In a heartbreaking yet hopeful collection of personal essays and prose poems, blending the confessional, political, and literary, acclaimed poet and essayist Kai Cheng Thom dives deep into the questions that haunt social movements today. With the author's characteristic eloquence and honesty, the book proposes heartfelt solutions on the topics of violence, complicity, family, vengeance, and forgiveness. Taking its cues from contemporary thought leaders in the transformative justice movement such as adrienne maree brown and Leah Lakshmi Piepzna-Samarasinha, this provocative book is a call for nuance in a time of political polarization, for healing in a time of justice, and for love in an apocalypse.

J - Joyful Militancy: Building Thriving Resistance in Toxic Times by Carla Bergman and Nick Montgomery
"Absolutely what we need in these days of spreading gloom. A very well argued case for joyful militancy, and against the dead hand of puritanical revolution. Read it, live it!"—John Holloway, author of Crack Capitalism


K - I Know Why The Caged Bird Sings by Maya Angelou
Maya Angelou's debut memoir. A modern classic.
L - I Like To Watch: Arguing My Way through the TV Revolution by Emily Nussbaum
From The New Yorker's fiercely original, Pulitzer Prize-winning culture critic, a provocative collection of new and previously published essays arguing that we are what we watch.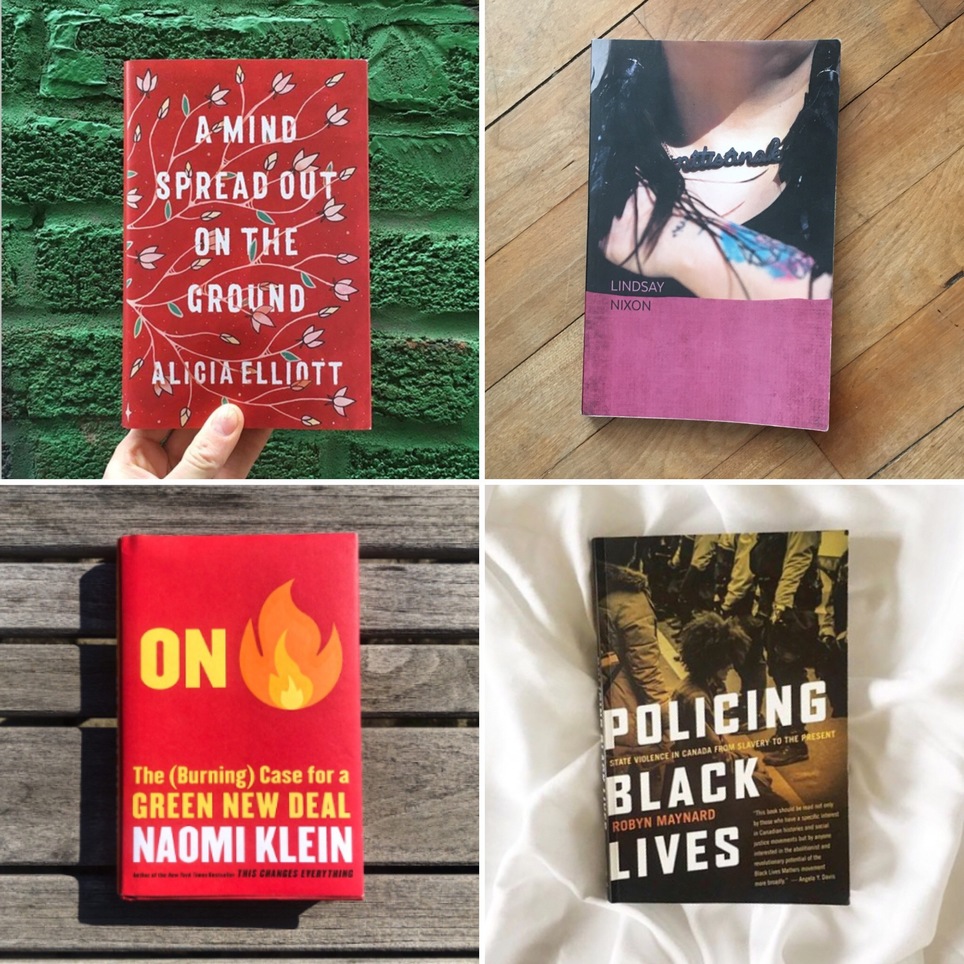 M - A Mind Spread Out On the Ground by Alicia Elliott
In an urgent and visceral work that asks essential questions about the treatment of Native people in North America while drawing on intimate details of her own life and experience with intergenerational trauma, Alicia Elliott offers indispensable insight into the ongoing legacy of colonialism. She engages with such wide-ranging topics as race, parenthood, love, mental illness, poverty, sexual assault, gentrifcation, writing and representation, and in the process makes connections both large and small between the past and present, the personal and political.

N - nîtisânak by Lindsay Nixon

"A tour-de-force of vulnerability, testimony, wit, camp, and critique!" — Billy-Ray Belcourt,

O - On Fire: The Burning Case for a Green New Deal by Naomi Klein
For more than twenty years, Naomi Klein has been the foremost chronicler of the economic war waged on both people and planet--and the champion of a sweeping environmental agenda with stability and justice at its center.

Delving into topics ranging from the clash between ecological time and our culture of "perpetual now," to the soaring history of humans' ability to change rapidly in the face of grave threat, to rising white supremacy and fortressed borders as a form of "climate barbarism," this is a rousing call to action for a planet on the brink. Above all, she underscores how we can still rise to the existential challenge of the crisis if we are willing to transform our systems that are producing it, making clear how the battle for a greener world is indistinguishable from the fight for our lives.

P - Policing Black Lives by Robyn Maynard
Delving behind Canada's veneer of multiculturalism and tolerance, Policing Black Lives traces the violent realities of anti-blackness from the slave ships to prisons, classrooms and beyond. Robyn Maynard provides readers with the first comprehensive account of nearly four hundred years of state-sanctioned surveillance, criminalization and punishment of Black lives in Canada.

While highlighting the ubiquity of Black resistance, Policing Black Lives traces the still-living legacy of slavery across multiple institutions. A call-to-action, Policing Black Lives urges readers to work toward dismantling structures of racial domination and re-imagining a more just society.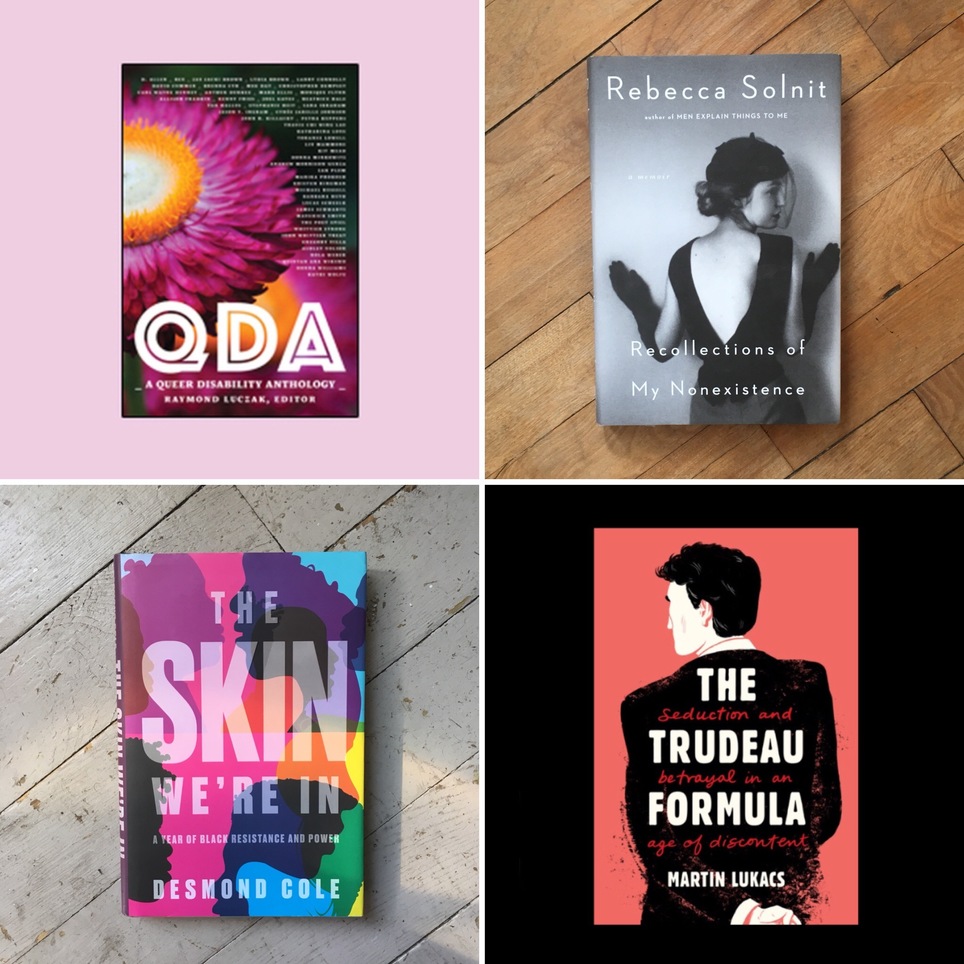 Q - QDQ A Queer Disability Anthology - Raymond Luczak (editor)
Featuring fiction, poetry, nonfiction, and comics by 48 writers from around the world, QDA: A Queer Disability Anthology proves that intersectionality isn't just a buzzword. It's a penetrating and unforgettable look into the hearts and souls of those defiant enough to explore their own vulnerabilities and demonstrate their own strengths.

R - Recollections of My Nonexistence by Rebecca Solnit
Rebecca Solnit describes her formation as a writer and as a feminist in 1980s San Francisco, in an atmosphere of gender violence on the street and throughout society and the exclusion of women from cultural arenas. She tells of being poor, hopeful, and adrift in the city that became her great teacher, and of the small apartment that, when she was nineteen, became the home in which she transformed herself.


S - The Skin We're In by Desmond Cole
Puncturing the bubble of Canadian smugness and naive assumptions of a post-racial nation, Cole chronicles just one year—2017—in the struggle against racism in this country. It was a year that saw calls for tighter borders when Black refugees braved frigid temperatures to cross into Manitoba from the States, Indigenous land and water protectors resisting the celebration of Canada's 150th birthday, police across the country rallying around an officer accused of murder, and more. The year also witnessed the profound personal and professional ramifications of Desmond Cole's unwavering determination to combat injustice.

T - The Trudeau Formula by Martin Luckacs
The only way to defeat the rise of an ugly right—and fulfill the hopes betrayed by Justin Trudeau—is an unapologetically bold response to inequality, racism, and climate breakdown.
Drawing on investigative research and first-hand reporting, he reveals [Trudeau's actions to be those of a] slick status-quo political machine, backed by a cast of corporate elites and lobbyists who expected a pay-off from Liberal rule in Ottawa.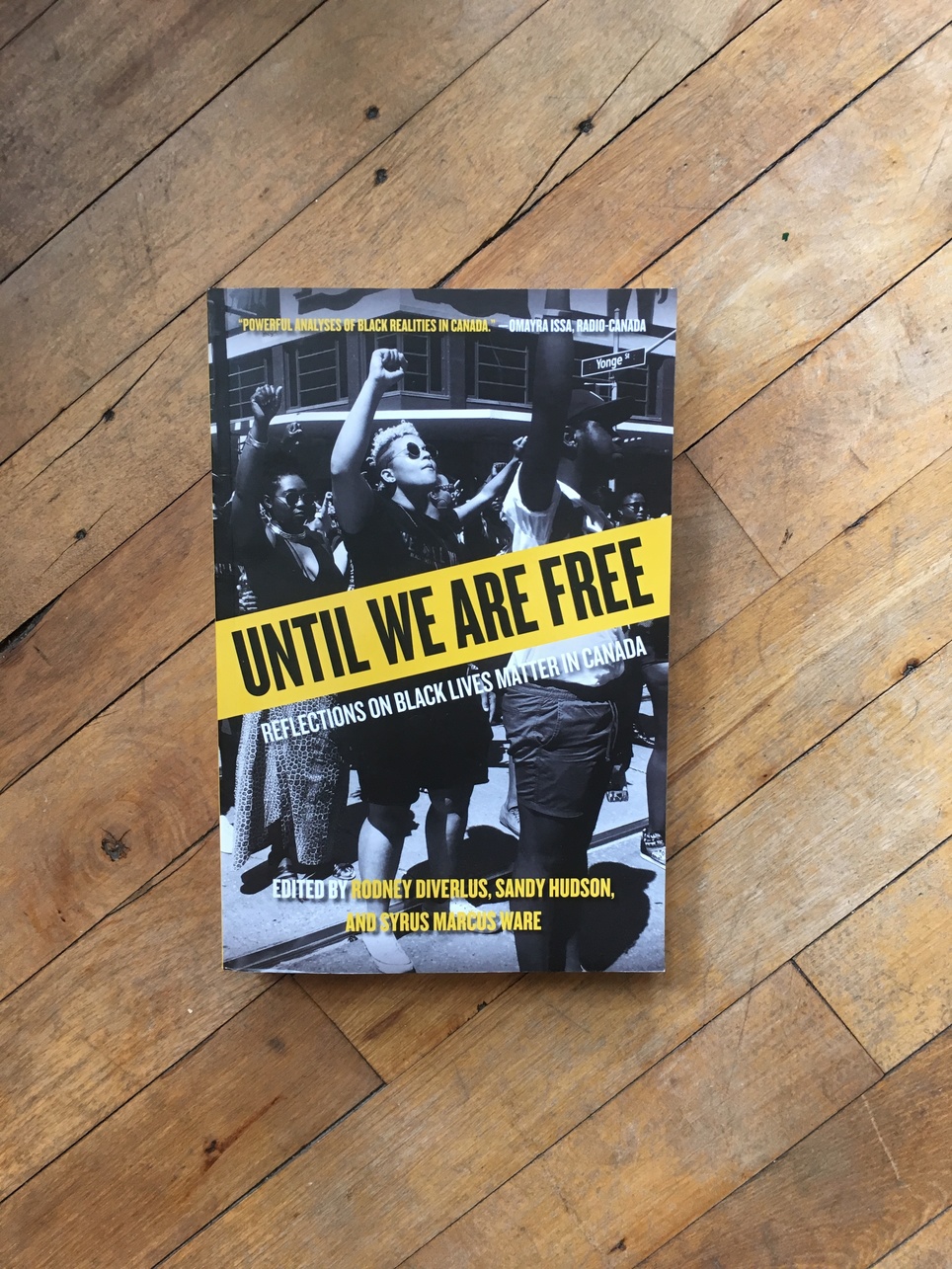 U - Until We Are Free: Reflections on Black Lives Matter in Canada - Rodney Diverlus, Sandy Hudson and Syrus Marcus Ware (Editors)
Until We Are Free contains some of the very best writing on the hottest issues facing the Black community in Canada. It describes the latest developments in Canadian Black activism, organizing efforts through the use of social media, Black-Indigenous alliances, and more.

Contributors:
Silvia Argentina Arauz - Toronto, ON
Leanne Betasamosake Simpson - Toronto, ON
Patrisse Cullors - Los Angeles, CA
Giselle Dias - Wilfrid Laurier University, Waterloo, ON
OmiSoore Dryden - Dalhousie University, Halifax, NS
Paige Galette - Whitehorse, YK
Dana Inkster - University of Lethbridge, Lethbridge, AB
Sarah Jama - Hamilton, ON
El Jones - Mount Saint Vincent University, Halifax, NS
Anique Jordan - Toronto, ON
Dr. Naila Keleta Mae - University of Waterloo, Waterloo, ON
Janaya Khan - Los Angeles, CA
Gilary Massa - York University, Toronto, ON
Robyn Maynard - University of Toronto, Toronto, ON
QueenTite Opaleke - Toronto, ON
Randolph Riley - Halifax, NS
Camille Turner - York University, Toronto, ON
Ravyn Wngz - Toronto, ON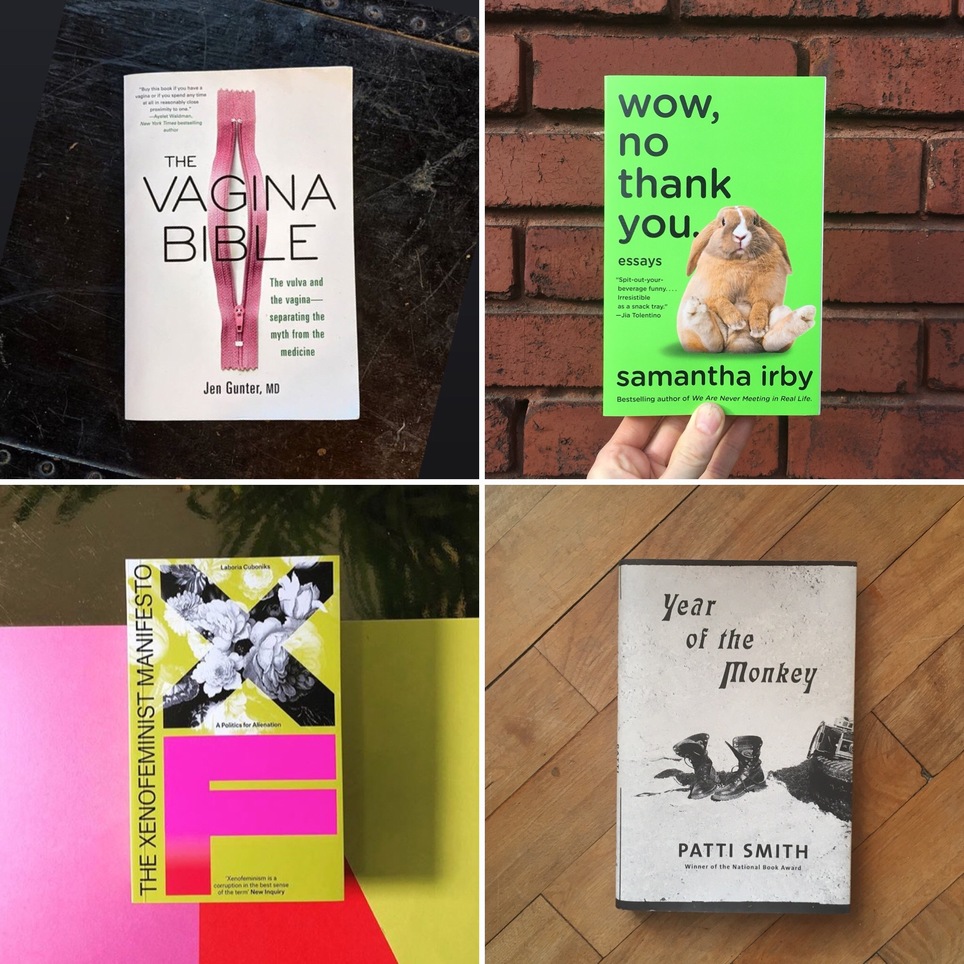 V - The Vagina Bible by Jen Gunter
From Canadian OB/GYN, women's health advocate and New York Times columnist Dr. Jen Gunter: The Vagina Bible is a comprehensive, accessible antidote to the maelstrom of misinformation around female sexual health, and the ultimate guide to everything a person needs to know about the vagina and vulva.

W - Wow, No Thank You by Samantha Irby
"Stay-up-all-night, miss-your-subway-stop, spit-out-your-beverage funny.... irresistible as a snack tray, as intimately pleasurable as an Irish goodbye."
—Jia Tolentino

X - The Xenofeminist Manifesto by Laboria Cuboniks
Injustice should not simply be accepted as "the way things are." This is the starting point for this book, a radical attempt to articulate a feminism fit for the twenty-first century.

Unafraid of exploring the potentials of technology, both its tyrannical and emancipatory possibilities, the manifesto seeks to uproot forces of repression that have come to seem inevitable—from the family, to the body, to the idea of gender itself.

Y - The Year of the Monkey by Patti Smith
Smith melds the western landscape with her own dreamscape. Taking us from California to the Arizona desert; to a Kentucky farm as the amanuensis of a friend in crisis; to the hospital room of a valued mentor; and by turns to remembered and imagined places, this haunting memoir blends fact and fiction with poetic mastery. The unexpected happens; grief and disillusionment set in. But as Smith heads toward a new decade in her own life, she offers this balm to the reader: her wisdom, wit, gimlet eye, and above all, a rugged hope for a better world.

.....&....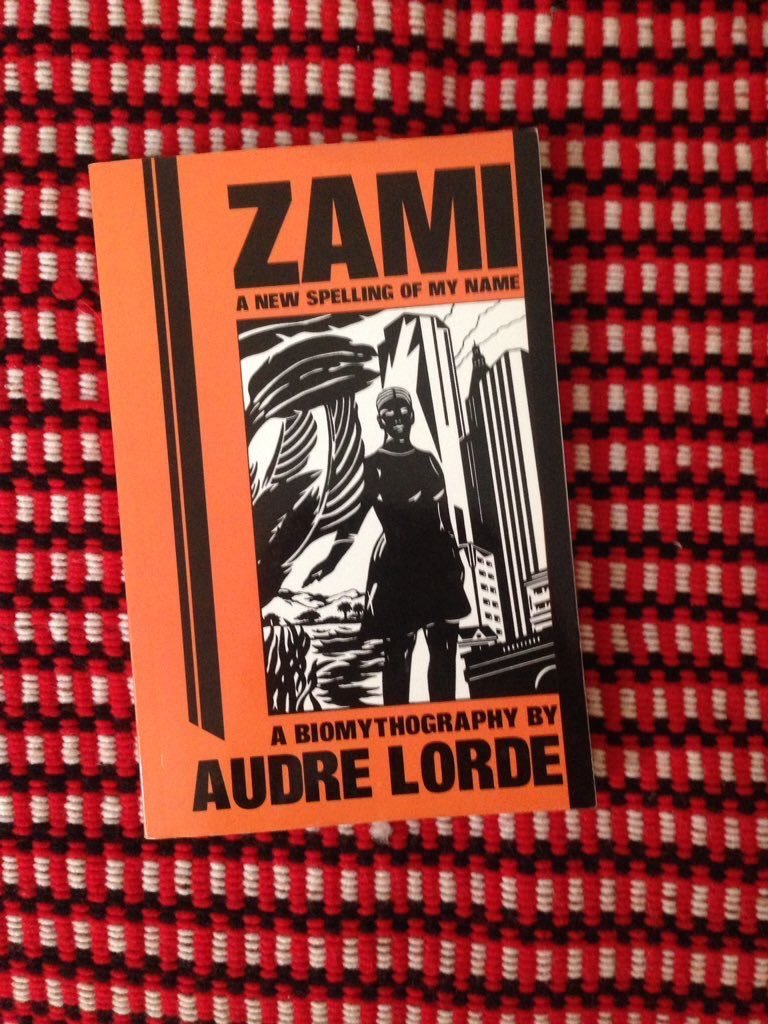 Z - Zami: A New Spelling of My Name, A BioMythography by Audre Lorde
"ZAMI is a fast-moving chronicle. From the author's vivid childhood memories in Harlem to her coming of age in the late 1950s, the nature of Audre Lorde's work is cyclical. It especially relates the linkage of women who have shaped her . . . Lorde brings into play her craft of lush description and characterization. It keeps unfolding page after page."—Off Our Backs
Let us know if you have any questions about these books. Thanks to publishers for book descriptions.
Happy Reading!