Eileen Myles Launches Pathetic Literature
December 2, 2022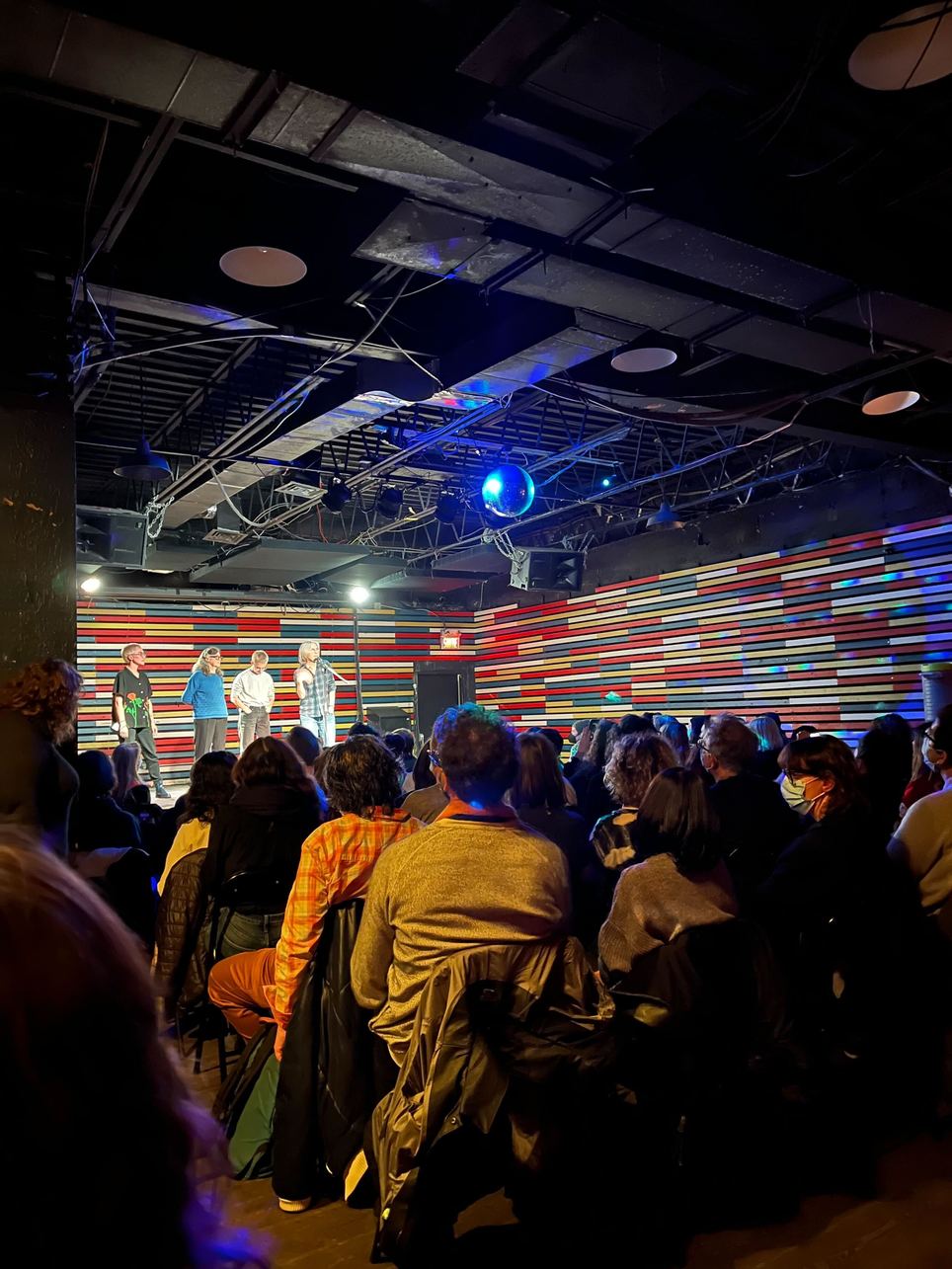 We were ecstatic to host our first off-site event since 2020 for the launch of Eileen Myles' new work, Pathetic Literature, an anthology that appraises the pathos which enlivens writers and humanity itself. Paralleling the gay community's reclaiming of the term queer, Myles has swimmingly made being pathetic cool as they shared the spotlight under the disco ball at Bar Le Ritz's stage with H Felix Chau Bradley, Gail Scott, and Sallie Fullerton.
Myles delighted us with an account of what the poetic endeavor has been like across different decades, and how they have embodied sentimentality in their craft. Despite the seemingly unchanging general consensus that "literature is pathetic", as the book's poignant introduction starts off, this term has switched from the ancient Greek rhetoric sense of pathos, or the appeal to emotions, to an adjective meaning pitiful, imbuing vulnerability with a negative connotation. However, as Myles discovered through the incorporation of movement into their poetry readings, putting one's body on the line and allowing vulnerability is what allows the truth to come out, resulting in a revolutionary attitude towards both life and art.
After the book's introduction, H Felix Chau Bradley read the anthology's excerpt selection from Renee Gladman's surrealist novel, The Activist, reminiscing about friendship, eggs, and putting one's body on the forefront, before delighting the audience with some of their own earlier work. Next, Sallie Fullerton read the anthology's selection of their raw yet intricately timed poetry, exploring what it means to inhabit a body, and how we can craft its fluctuating limits. Last but not least, Gail Scott, whose story Play It Again, S appears in the anthology, submerged the audience in a fragment from her novel, Heroine, traveling back in time through a stream of consciousness and into Montreal's transit from the 70's to the 80's, soaking in the city's politically active underground scene.
The questions from the public inquired further into the writers' creative practices, the subjects of their artwork, and how they manage to make such intimate topics cool. The authors' clever and humanity-infused answers left the audience excited to read the anthology's ample selection of texts, convinced that sensitivity is punk. The night ended with a personalized book signing by Myles, who also kindly signed Drawn & Quarterly's copies of Pathetic Literature, which you can grab in-store.