Coach House Fall Poetry Launch!
October 7, 2019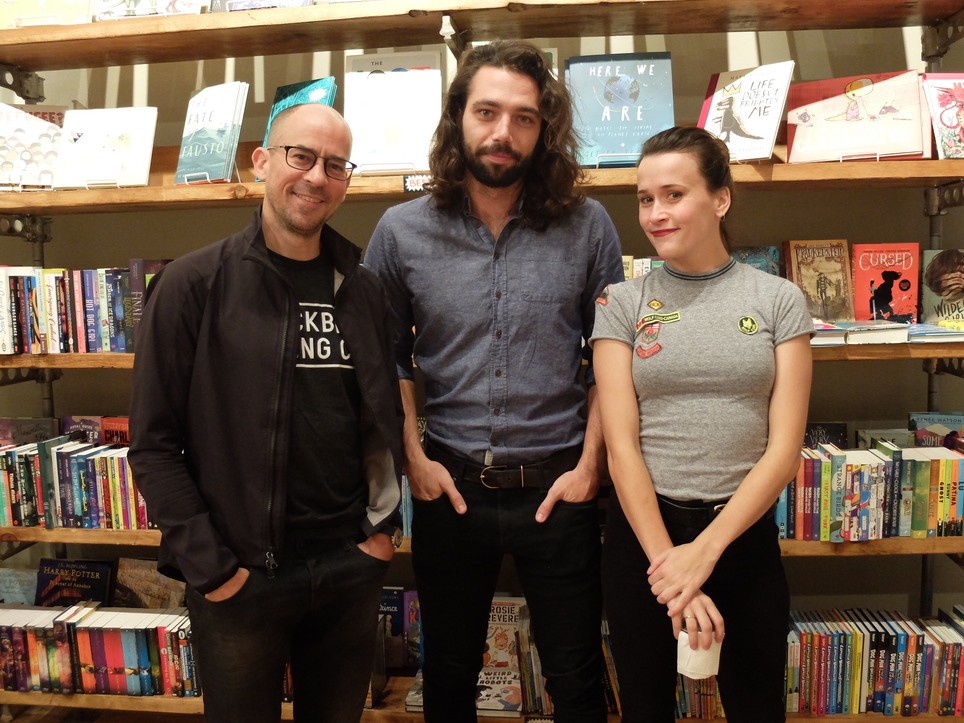 We gathered 'round this evening to welcome Andrew Zawacki, K.B. Thors, and Vincent Pagé for the Coach House Fall Poetry Launch featuring their latest: Unsun, Vulgar Mechanics, and This is the Emergency Present!
Andrew: "There's a chair up there!"
Kara: "It would feel weird to sit in it though. Maybe you will, Vincent."
Vincent did not sit in the chair.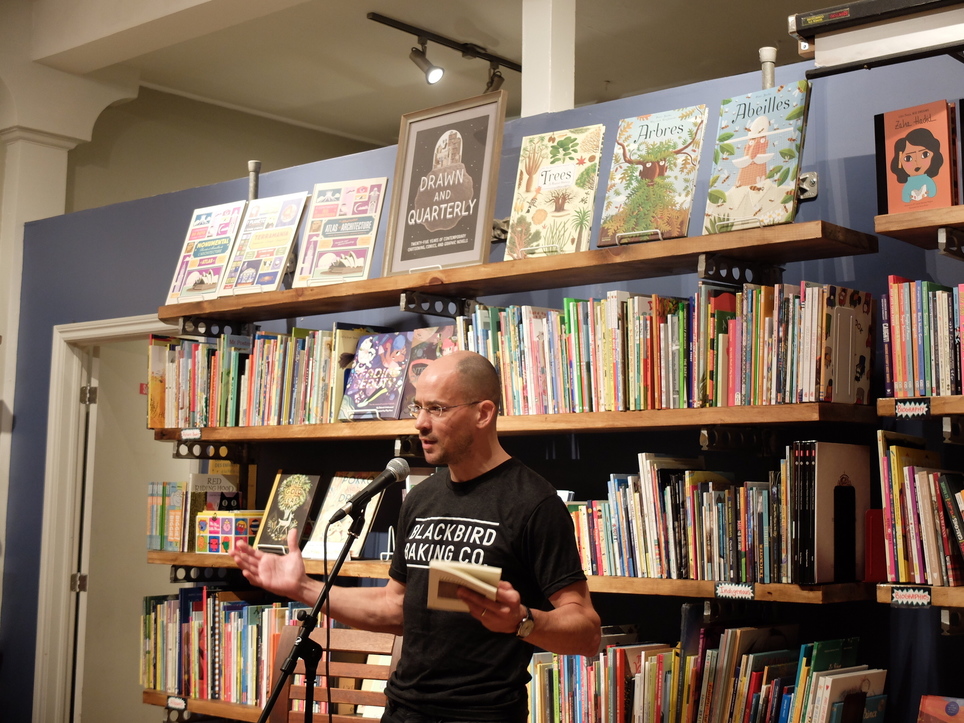 Gratophoph - a son's attempt to say photograph.

"This is not a waiting room for souls - it is modern, totally unwindowed."
"We are not separated on the journey - my mouth keeps springing open."
Regarding the tour: "It's great to be reading here with Vincent and Kara. I feel like we're on some Literary Survivor or something…there were eight of us when we started in Toronto and e
ven the mighty Gail Scott wasn't there the next day!"
Who then will be the last one standing?
"Despite Vincent here, my money's on Kara."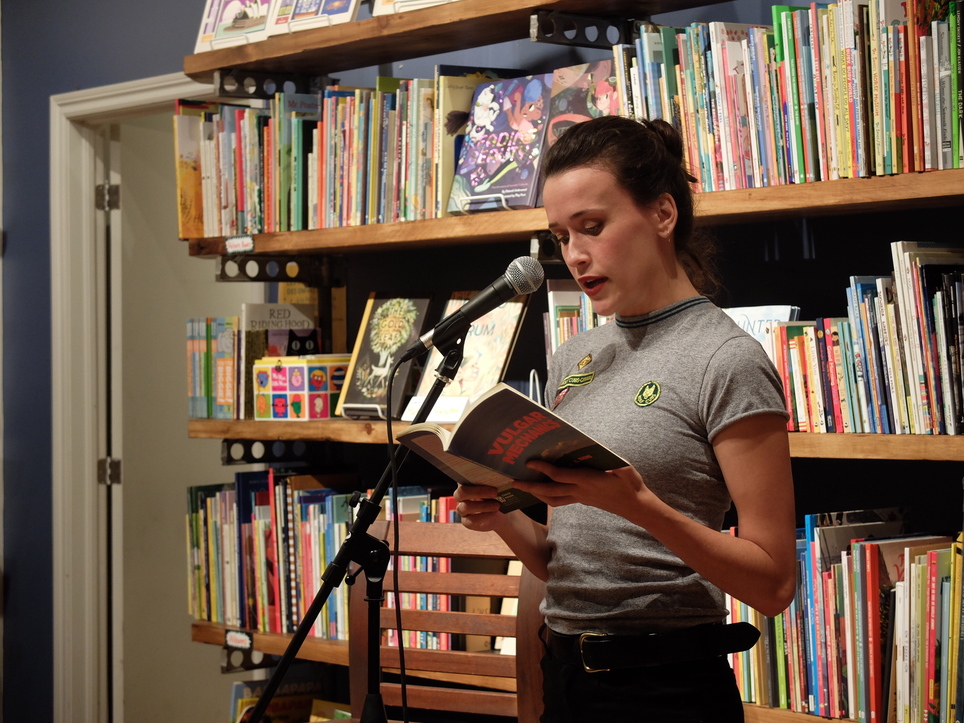 On Montreal: "I was told this is my home reading - I did just move here."
"I'm reading this for my friend Amy who I'm so glad is into Star Trek!"
Reading from Resting Bitch Face Daughter of Thor: "Bodies at rest will stay at rest. Bodies in motion will pussyfoot several extra blocks to go anywhere other than home… What if everyone had hammers on their garters walking the street?"
Tank Top "...this goes out to all the Tops out there."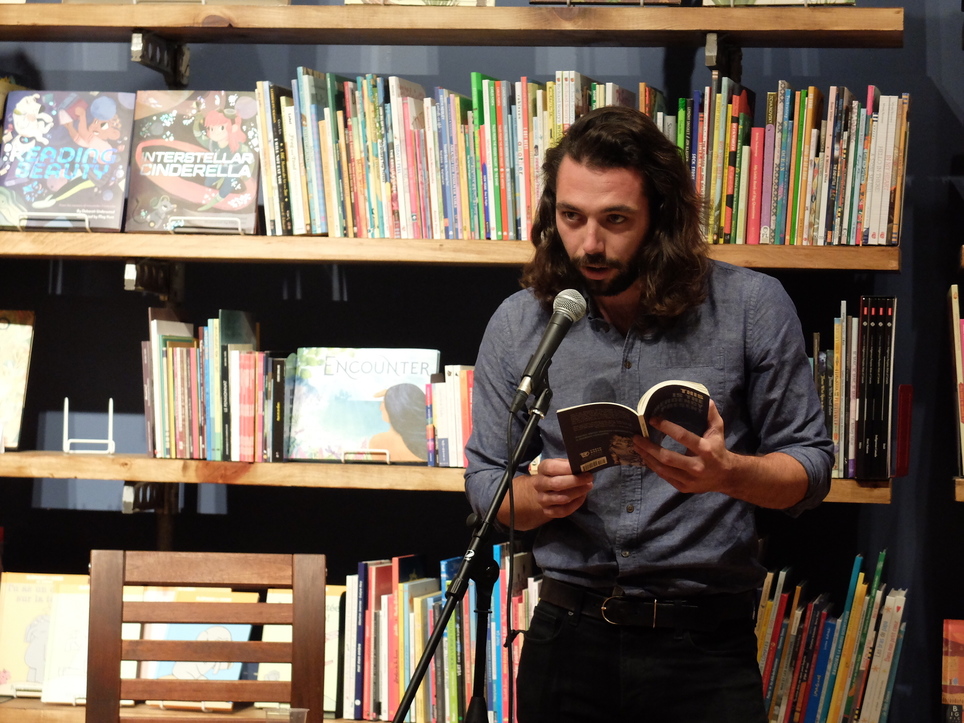 Reading from Armistice:

"Give me hackneyed words because they are

What's left in the end...
Throw me from a cliff
Plz & thx
Xoxo"
"So I didn't wear a helmet
So I stopped crossing streets in designated crossing areas
So I fed a raccoon some Pringles"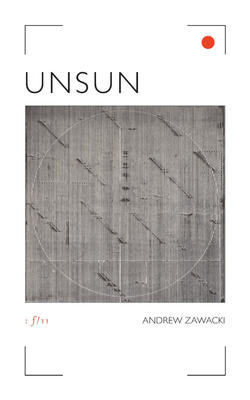 Unsun
Andrew Zawacki
Poetry that aspires ?to conjugate in a future imperfect,' but a future nonetheless. In his fifth poetry volume, American poet Andrew Zawacki expands his...
More Info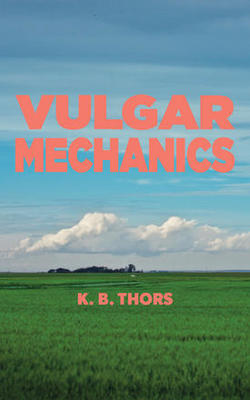 Vulgar Mechanics
K.B. Thors
Grappling with queerness and trauma from Alberta to Brooklyn, powering through body, sex, and gender to hit free open roads In Vulgar Mechanics, K....
More Info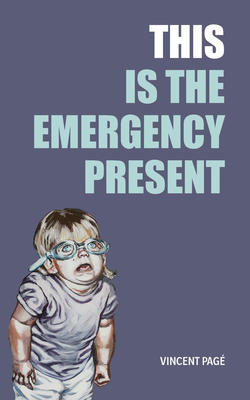 This is the Emergency Present
Vincent Pagé
Poems about modern romance by a modern romantic Moving through a human landscape that exists both in the past and present, the speaker/speakers in...
More Info