Summer Reads 2022 - Catherine
May 25, 2022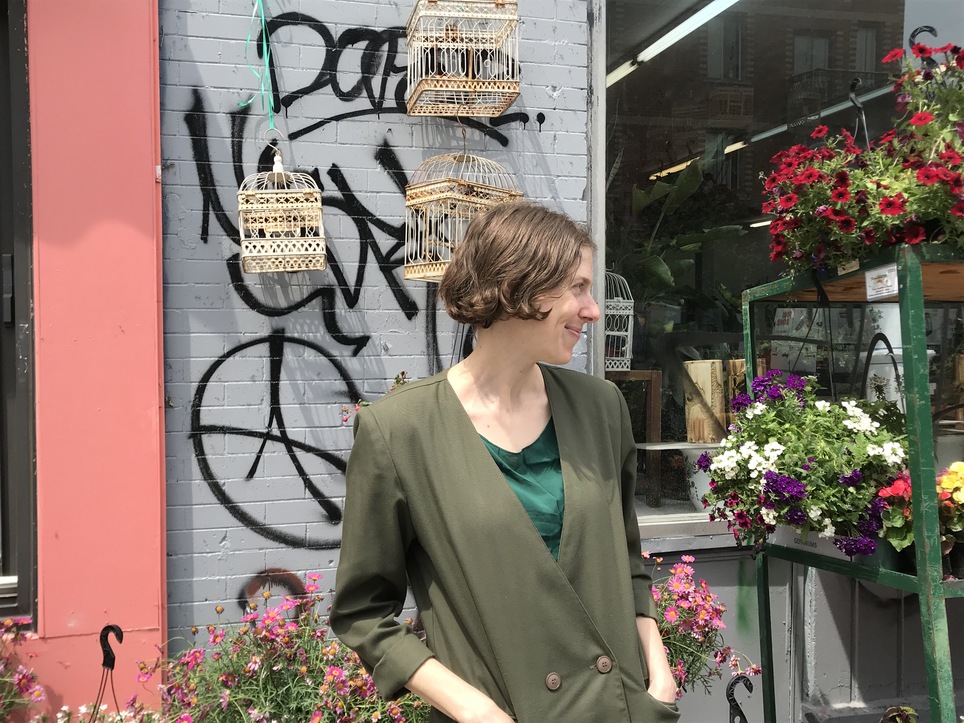 Summer is here, and so are the summer reading lists! That list will be my last one as a bookseller, so it feels extra special.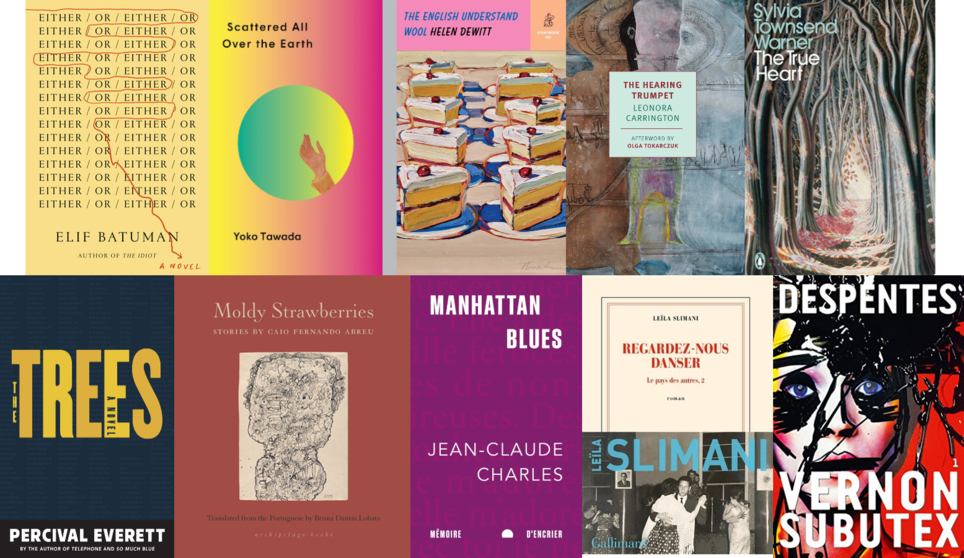 FICTION
One of the books I've recommended the most in my time here is probably Elif Batuman's The Idiot and her long-awaited follow-up, Either/Or, is finally out and it did not disappoint. Such a pleasure to hang out with these characters again, I think it's a great summer read! Yoko Tawada's Scattered All Over the Earth was a pretty fun, mend-bending read. I had loved The Emissary and Where Europe Begins, so I was already sold, but here, I found her lighter, more playful. I'm excited to read the other books from that trilogy.

Helen Dewitt has a new book out in August, The English Understand Wool, and I am looking forward to it. Her Last Samurai is a very important book for me. NYRB reissued Leonora Carrington's Hearing Trumpet and I adore that story. Strange, eerie, funny, and an abrupt slide into some mystical shadowy depth. You want to read it! Penguin is reissuying most of Sylvia Townsend Warner's work. I've only read the now cult avant-feminist witchy Lolly Willowes and I'm delighted at the prospect of reading more of her work!
The Trees by Percival Everett is a fast-paced, grisly and humorous story about mysterious murders happening in the South of United States. At each crime-scene, an extra corpse is found that reminds one of Emmett Till's. Published in English on Archipelago Books, Caio Fernando Abreu's Moldy Strawberries is a sublime collection of short stories that dives into Brazil's Queer Community in 1980s Brazil, caught in the midst of the AIDS crisis and as well as a rigid dictatorship. Gorgeously written, witty, poetic, I highly recommend it!

J'ai finalement lu Manhattan Blues de Jean-Claude Charles et quel délice! Le ton est à la fois passionné et désinvolte, expérimental, irrésistible. J'ai rarement lu une écriture aussi enjouée. Dans un autre registre, la série de Leila Slimani, Le Pays des Autres, en est à son deuxième tome, Regardez-nous danser, et les deux sont magnifiques. L'histoire est une véritable saga débutant au Maroc juste après la 2e guerre mondiale et se déploie dans le second roman, jusqu'aux années 60s. Les personnages sont réalistes, complexes, sans tomber dans l'émotivité, alors qu'ils naviguent déplacements, colonialisme, rapports de force inégaux. Finalement, si vous n'avez pas encore lu, c'est un bon moment pour lire la série légendaire de Virginie Despentes Vernon Subutex.

NON FICTION / ESSAIS
Robyn Maynard (Policing Black Lives) & Leanne Betasamosake Simpson (Noopiming, Islands of Decolonial Love) unite and offer us Rehearsals for Living. Legendary! I have been drawn to Walter Rodney's work lately (I'm reading How Europe Underdeveloped Africa at the moment) and Verso Books is publishing in August a new collection of essays I'm looking forward to put my hands on, Decolonial Marxism : Essays from the Pan-African Revolution. Sarah Schulman's Let the Record Show: A Political History of ACT UP New York, 1987-1993 is coming out in paperback and I should be able to manage reading it in this format (it is a hefty 736 pages)! I'm also interested in reading Elite Capture : How the Powerful Took Over Identity Politics (And Everything Else) by Olúfẹ́mi O. Táíwò, the latest Haymarket release, about the 'ways elites have co-opted radical critiques of racial capitalism to serve their own ends'. After being delayed a few times, Assembling a Black Counter Culture by DeForrest Brown, Jr is supposed to be released this July and I'm quite excited to read it! It is said to be a 'general history of techno and adjacent electronic music with a focus on Black experiences in industrialized labor systems, and [an exploration of ] the development of on-the-ground culture in relation to a unique American art form.'

J'ai bien hâte de lire la nouvelle parution de Mémoire d'Encrier, Seize temps noirs pour apprendre à dire kuei de Philippe Néméh-Nombré. Le livre parle des solidarités entre les communautés noires et autochtones au Québec, un sujet peu exploré jusqu'à présent. J'ai entendu une entrevue super intéressante avec l'auteure Louisa Yousfi au podcast Kiffe ta Race pour parler de son nouveau livre, Rester Barbare. Un appartement sur Uranus, légendaire recueil des textes que Paul B. Preciado a rédigé pour Libération est finalement en format poche. Une lecture essentielle! Les éditions Wildproject ont publié trois textes inédits de l'auteure Anna Lowenhaupt Tsing, qui a également écrit Mushroom at the End of the World. Proliférations est une nouvelle exploration des 'ruines du capitalisme'.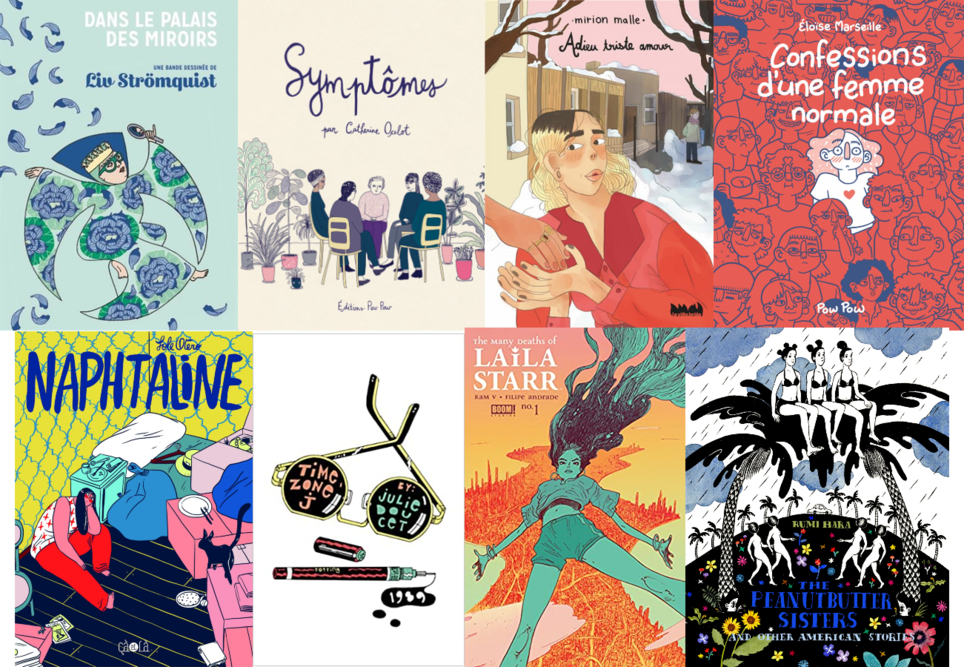 GRAPHIC NOVELS / BANDE DESSINÉES
Liv Stromquist est l'une de mes bédéistes préférées et son livre le plus récent, Dans le palais des miroirs, est excellent! Elle y traite de l'image du corps féminin dans le spectre des réseaux sociaux et aborde les différents standards de beauté au fil de l'histoire, la ménopause et la culture du selfie. Les Éditions Pow Pow ont de très belles sorties cette année, Adieu Triste Amour de Mirion Malle, Symptômes de Catherine Ocelot et Confessions D'une Femme Normale d'Éloise Marseille! Ça et là ont publié une traduction française de l'autrice d'Argentine Sole Otero, Naphtaline, dans une édition magnifique. Le style de dessin est superbe et l'histoire, une épopée familiale touchante.
Julie Doucet is back with Time Zone J, and I love love love Julie Doucet! The Many Deaths of Laila Starr by Ram V and Filipe Andrade looks exciting too! I had enjoyed Rumi Hara's Nori and I've been destabilized by The Peanutbutter Sisters and Other American Stories in a good way! That book is not a children's book, it is a strange, strange hypnotizing book.