Summer Reads 2023 - Emma
July 19, 2023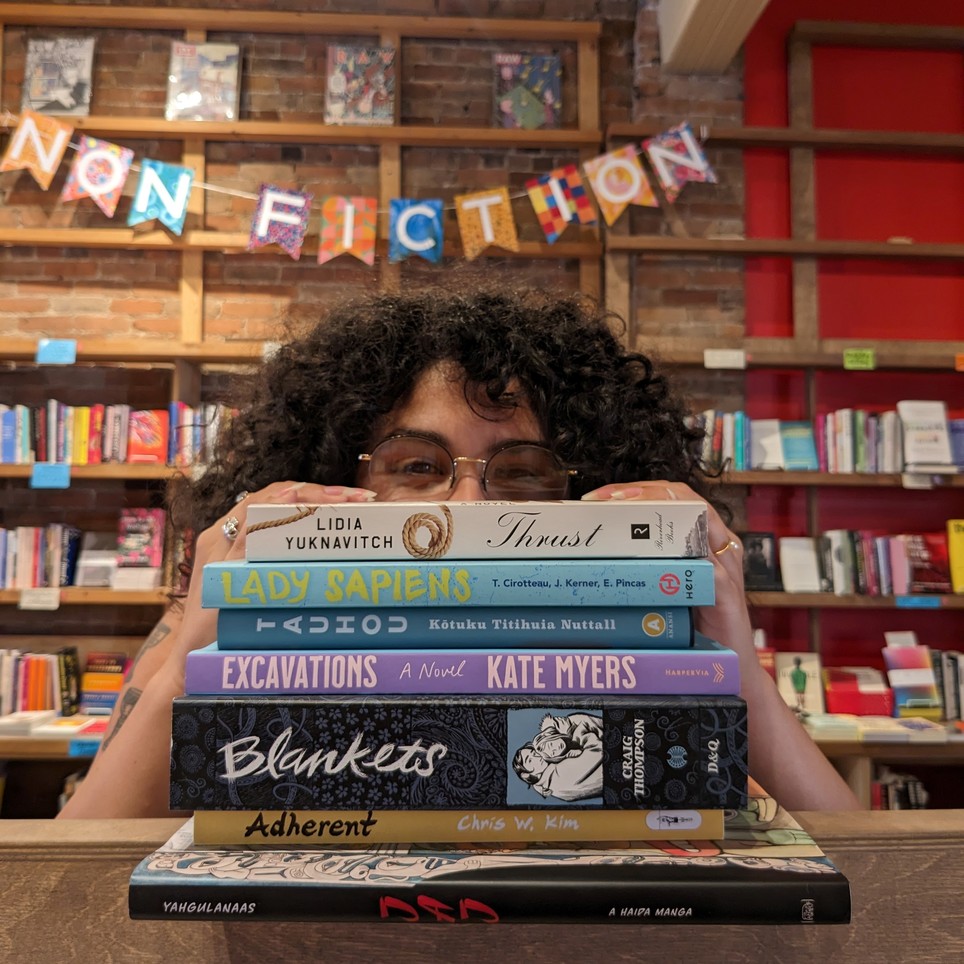 Here's what the cool kids (me) are reading this soggy, smoggy summer.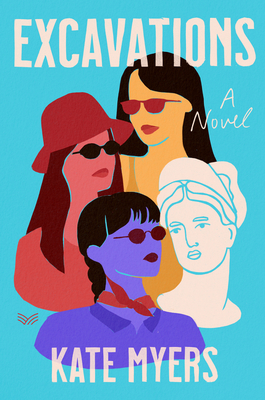 Excavations
Kate Myers
BEST SUMMER READS OF 2023: Oprah Daily • Good Housekeeping • Brit + Co"Witty and acerbic, Myers' debut is humorous and sharply written, as...
More Info
What do you get from a debut author with a degree in archaeology and a tenure at CollegeHumor? You get Excavations: Mamma Mia meets Indiana Jones with a heavy dose of millennial disillusionment. Listen: if I can ~influence~ you to read anything off this list, let it be this one.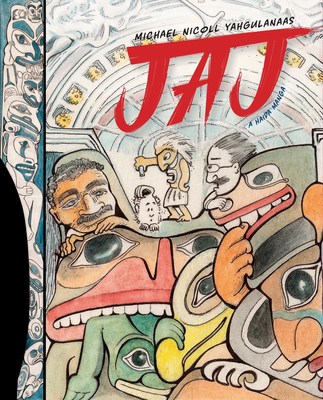 JAJ
Michael Nicoll Yahgulanaas
With gorgeous imagery, visual artist Michael Nicoll Yahgulanaas brings to life the tumultuous history of first contact between Europeans and Indigenous peoples and the...
More Info
Yahgulanaas has an art style that you've gotta see to believe. He isn't constrained by convention, instead creating a flowing, watercoloured style all his own. Through this bold medium, Yahgulanaas takes us on a journey from first contact to forced resettlement on Haida Gwaii.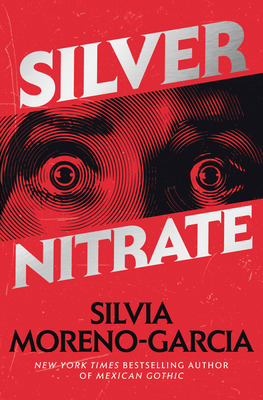 Silver Nitrate
Silvia Moreno-Garcia
From the New York Times bestselling author of The Daughter of Doctor Moreau and Mexican Gothic comes a fabulous meld of Mexican horror movies...
More Info
At this point, anyone hyping Silvia Moreno-Garcia is just preaching to the choir. Let me hype anyway: every single one of her novels is a dialogue between Mexican history and the western artistic canon. She deftly weaves us through different historical settings and this time, it's 1980s Mexico City, in the editing room of a deeply cursed horror film. Her MIND…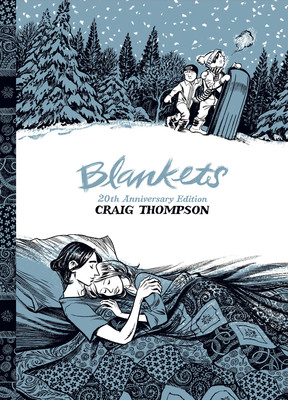 Blankets: 20th Anniversary Edition
Craig Thompson
"Quaint, meditative and sometimes dreamy, blankets will take you straight back to your first kiss." --The GuardianBlankets: 20th Anniversary Edition is the story of...
More Info
This critically-acclaimed and sob-inducing classic is getting its 20th anniversary reprint! I read it for the first time a few years ago at the behest of a close friend, who explained to me that this was the story that had changed his life. (I get him now). I can't wait for this new version, which counts a brand-new cover and an afterword by Thompson detailing the process of writing Blankets all those years ago.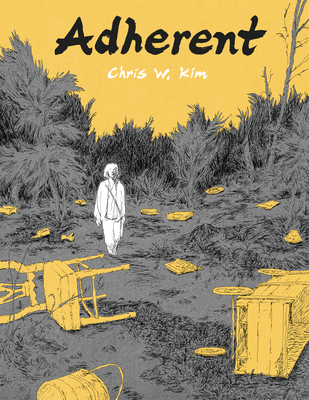 Adherent
Chris W. Kim
A poignant fable about a young woman who is captivated by a set of recently discovered notebooks and leaves her isolated community to search...
More Info
How do you paint a picture of those who came before you based only on the things they've left behind? Adherent imagines a kind of postapocalyptic archaeology and prompts us to think about how our own ancestors will make sense of our strange, hyperconsumerist society.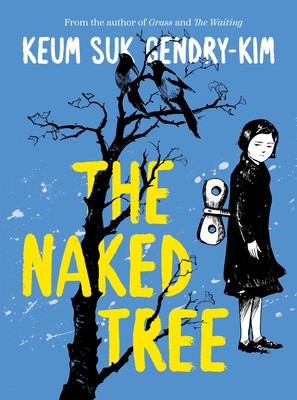 The Naked Tree
Keum Suk Gendry-Kim
A delicate, timeless, and breathtaking coming-of-age classic, reimagined Critically acclaimed and award-winning cartoonist Keum Suk Gendry-Kim returns with a stunning addition to her body...
More Info
This is a graphic novel adaptation of Park Wan-suh's eponymous 1970 work, now regarded as a classic of South Korean literature. It's a story of first love, resilience, and desire set at the height of the Korean War. I'm looking forward to picking it up!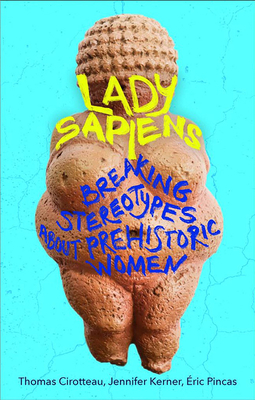 Lady Sapiens
Thomas Cirotteau, Jennifer Kerner, Eric Pincas
45,000 years ago, rare and precious statues of faceless women with hourglass figures, sturdy hips and generous breasts surfaced across Europe. Spanning thousands of...
More Info
My beloved archaeology - like so many of the social sciences - has suffered from a profound lack of professional curiosity surrounding the lives of women. This book gives the prehistoric European girlies their due through the lens of female art and craftsmanship, asking: what can the objects left behind by women tell us about how they lived? (J'ai lu la version française - l'original - et ce fut une révélation).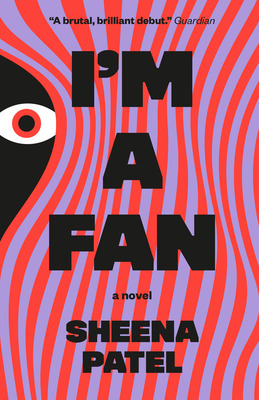 I'm a Fan
Sheena Patel
"A fast, fizzing cherry bomb of a debut . . . I'm a Fan will stick with you for a very long time." —The...
More Info
This one is an absolute rollercoaster of urgent, all-consuming obsession. A woman sleeping with a married man becomes enthralled with one of his other women - an influencer who has everything our narrator could want. Longlisted for the 2023 Women's Prize, this novel is a scathing indictment and turbulent exploration of wealth, privilege, and social media. (It's a raunchy one, too, and the person sat beside me on the airplane definitely noticed.)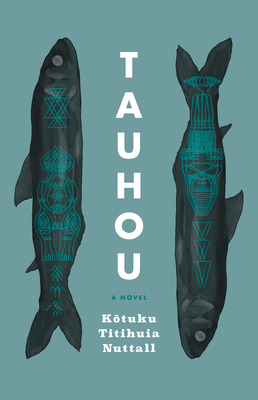 Tauhou
Kōtuku Titihuia Nuttall
Dear grandmother, I am writing this song, over and over again, for you. I am a stranger in this place, he tauhou ahau, reintroducing...
More Info
In these tangled short stories, Aotearoa and Vancouver Island sit side-by-side in the Pacific. I bought this book a little while back, saving it for my visit to B.C. There, I read those stories surrounded by all the lush greens and blues that bring Tauhou to life. If you aren't on the west coast at the moment, I still think you'll enjoy this masterclass in web-weaving.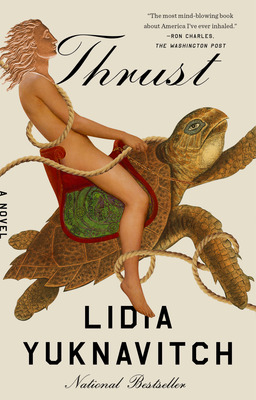 Thrust
Lidia Yuknavitch
INSTANT NATIONAL BESTSELLERTHRUST IS:"Epic." –The New York Times "A triumph." —Elle "Stunningly beautiful." —The Daily Beast "Both of the moment and utterly timeless." —Chicago...
More Info
I genuinely don't know how to summarize this book, but I'll try: a 21st century woman with the power to travel through time by forming connections with objects. A mysterious fallen city. A bunch of people with dreams of freedom, scattered throughout history. A story that weaves them all together.