"The force you are interested in is interested in you." - Lynda Barry and Chris Ware in Conversation!
December 27, 2019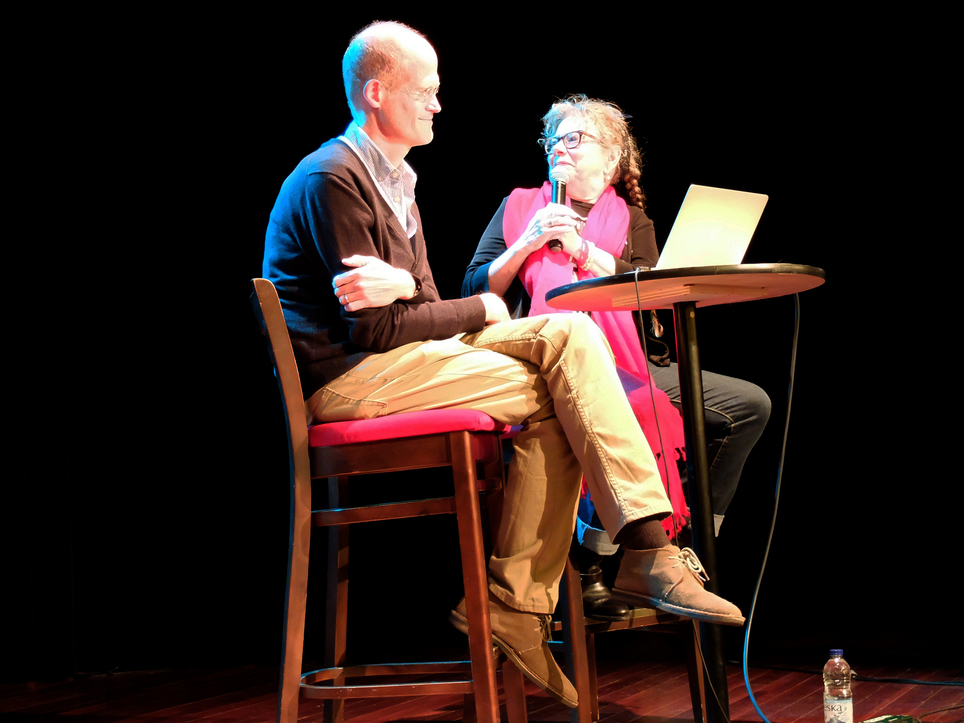 A long month of anticipation preceded the night when Lynda Barry and Chris Ware finally arrived at the Rialto Hall and spoke to a sold out audience for the launch of their latest: Making Comics and Rusty Brown. The two were a joy to see as their long friendship fueled much of the evening's conversation.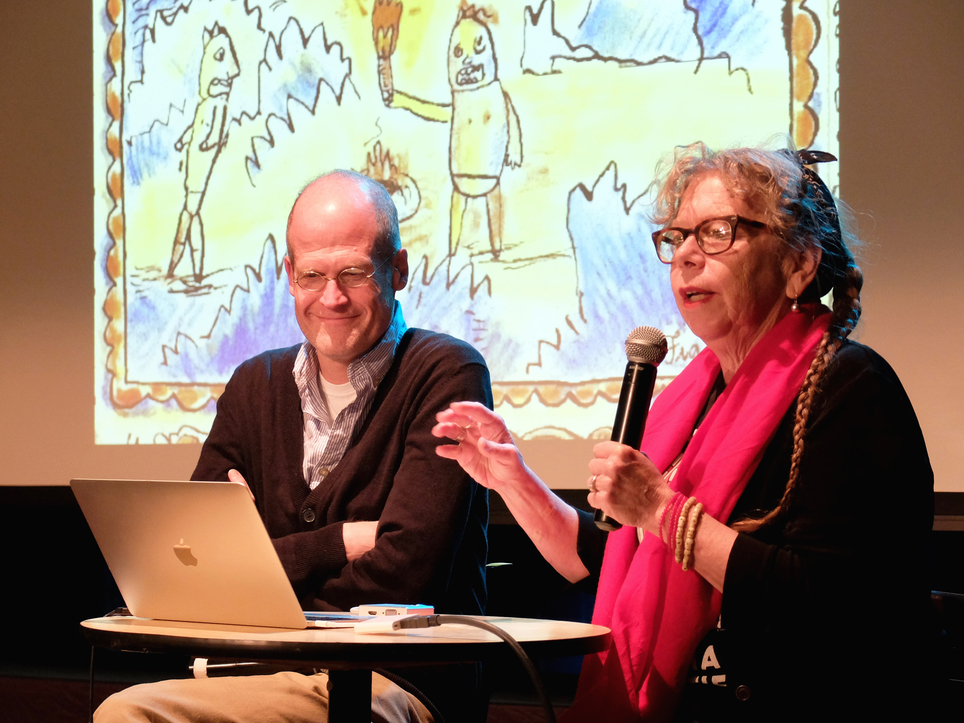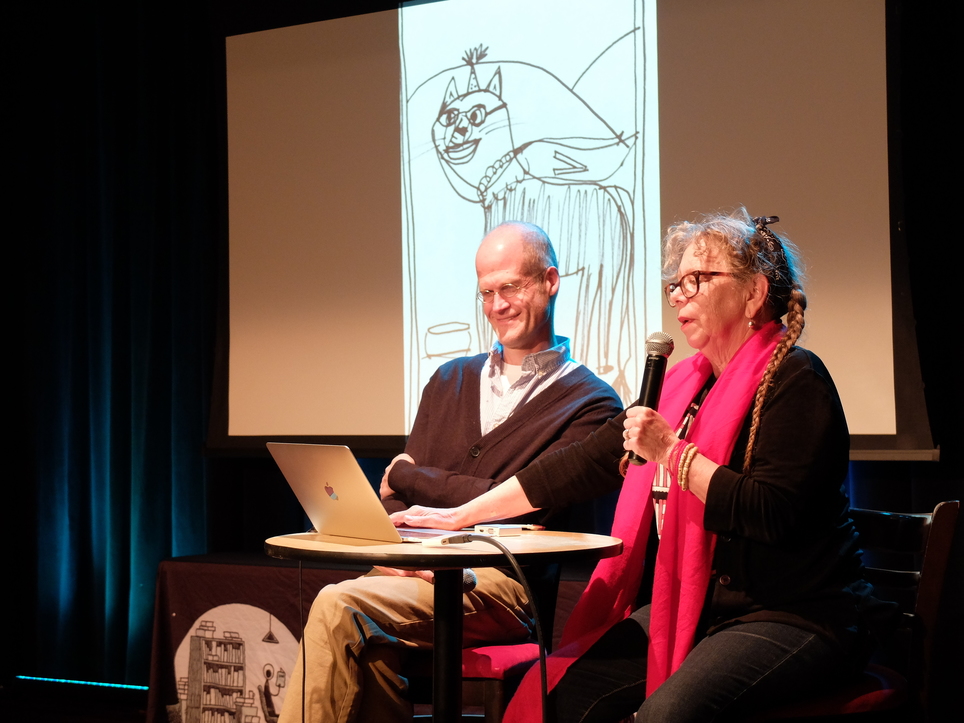 Lynda teaches art classes at a university for which, as she puts it, she has "no qualifications." Working with adults, she teaches drawing classes that celebrate the people who gave up on drawing a long time ago; helping them find that which they'd thought they'd lost growing up.
On the misery of grad students: "why is it acceptable to the university? The misery of adult life generally is watching your focus get narrower and narrower." She also works with grad students struggling through their thesis by enlisting her co-researchers: 4-year-olds who trade their fluency in images for the students' capacity to write quickly. Collaborative works emerge from these sessions that both inspire and delight.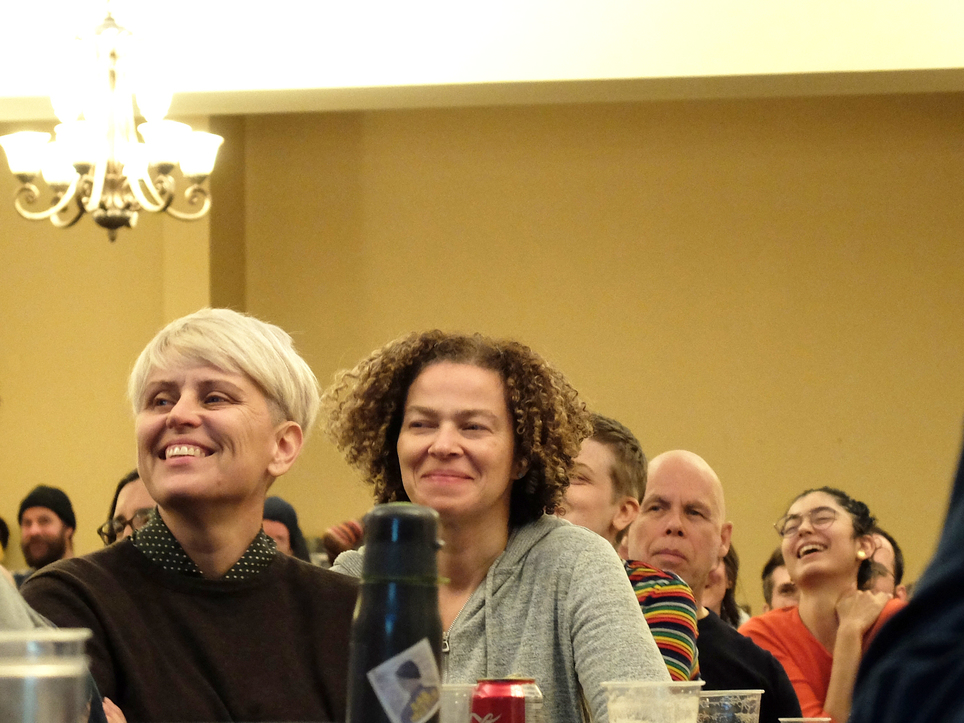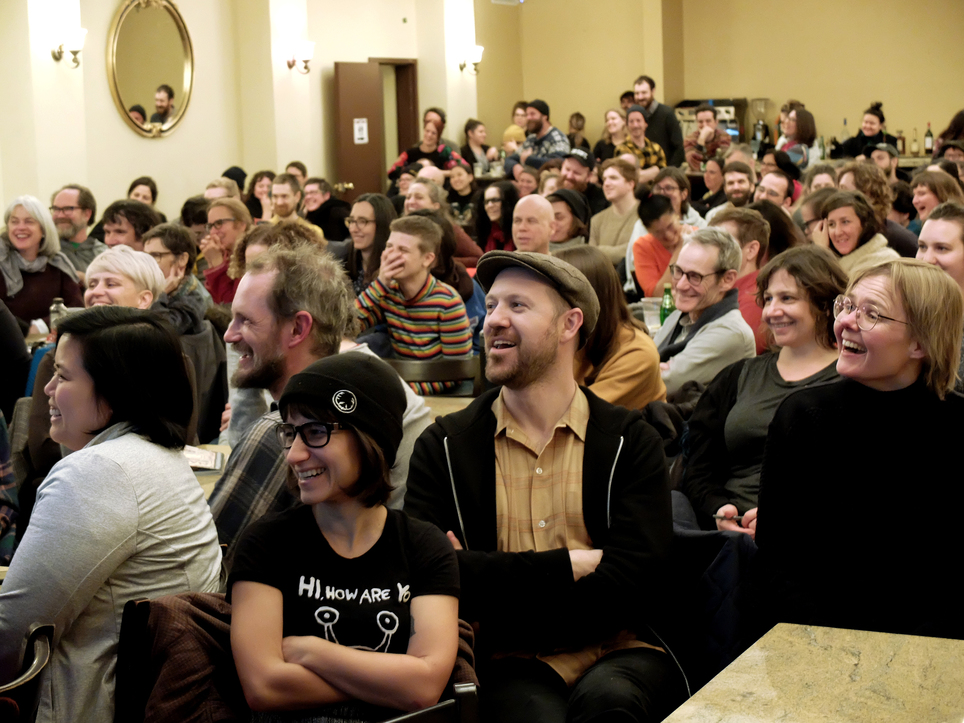 Lynda routinely uses Ivan Brunetti's method for drawing people as described in Cartooning: Philosophy and Practice. Big head, body shape, noodle-arms and legs, and you're done!
"You need the body shape - a stick figure, all he can do is get frisked." Drawing doesn't just go from the brain to the hand, but the other way, too: "the brain learns from what the hand does."
She goes on to describe watching scientists draw and write on a board, staring at it, writing some more (like a cartoonist!). Comparing kid and scientist drawings: "These drawings are what it looks like when you are getting an idea, or when drawing is giving you an idea."
Reminiscing on her Filipino family, Lynda recalls stories of a vampire - the Manananggal - terrifying and and awesome.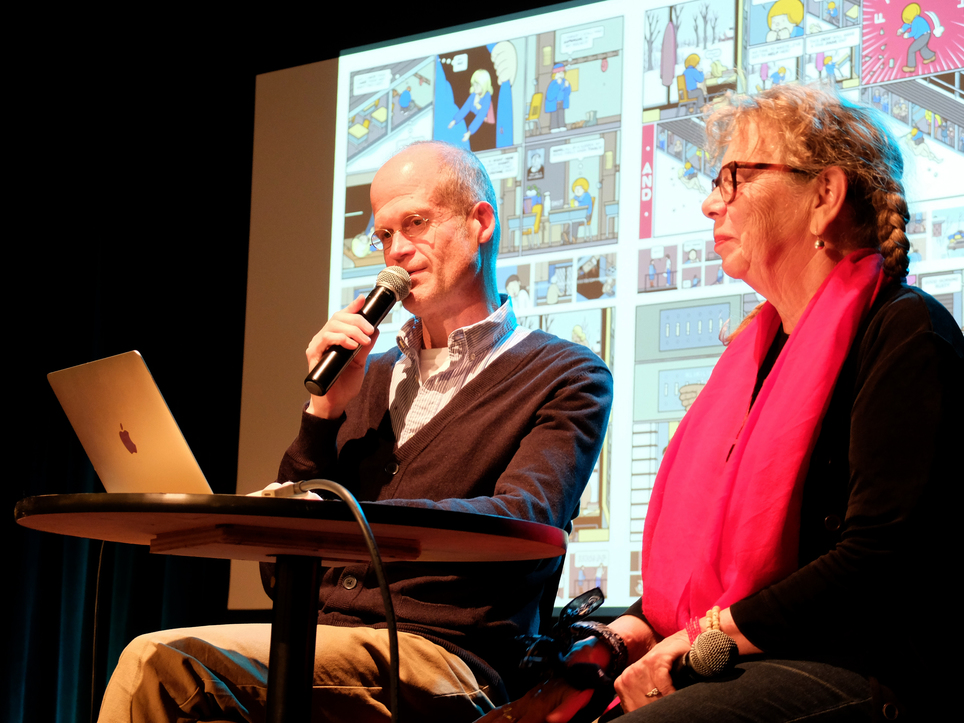 Relating to Lynda's students, Chris recalls his difficulty in art school - his disappointment with not learning skills, but having to talk constantly to classmates about himself and his ideas, which horrified him. He had felt that art school was taking him away from himself, losing touch with childhood, and the love of life.
When asked "Why don't you draw (more) expressively?" Chris replies that he needs translucence; that he strives for the clarity of typography. "Something that is visual, but that you can see through to the story."
Unveiling a few pages from his cartoon diary, drawn daily over the past eighteen or so years, Chris speaks of memory, and of his daughter, Clara. "I want to keep doing it until the end. I'll be in my hospital bed…'Bring me my pencils!'" That said, he truly believes in the necessity of writing outside of your experience.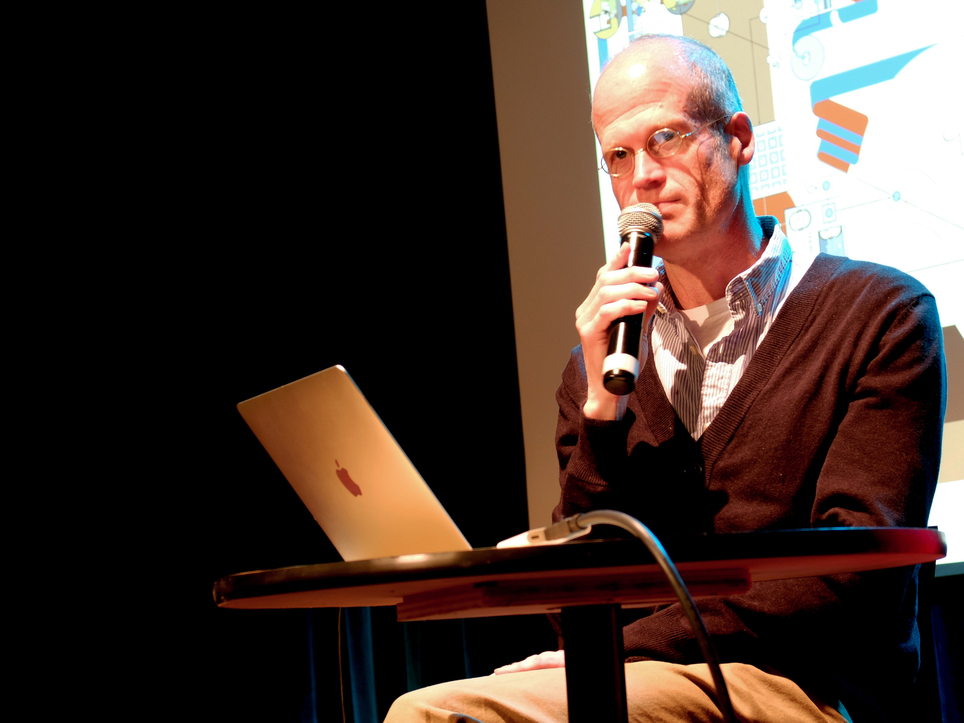 On his origin story: A love of superhero comics.
Growing up in Omaha, Nebraska, Chris had few friends until he met a kid who also loved comics and superheros. They would get together to read comics, draw, and make costumes (he still makes dolls today). When that kid moved away he was very sad, and started drawing to fill that hole.
An obsession with TV static was born out of his unhealthy love of television as a kid.
"Snow is the greatest art installation." On the beauty of snowflakes: "lacy, complex crystals that form around a single molecule of crud; Rusty Brown (the book's protagonist) is that molecule."
Entirely in line with the manner and detail of his work, Rusty Brown features a dust jacket which, unfolded, will line up front and back. If there is a sequel, its dust jackets will do the same to form a square.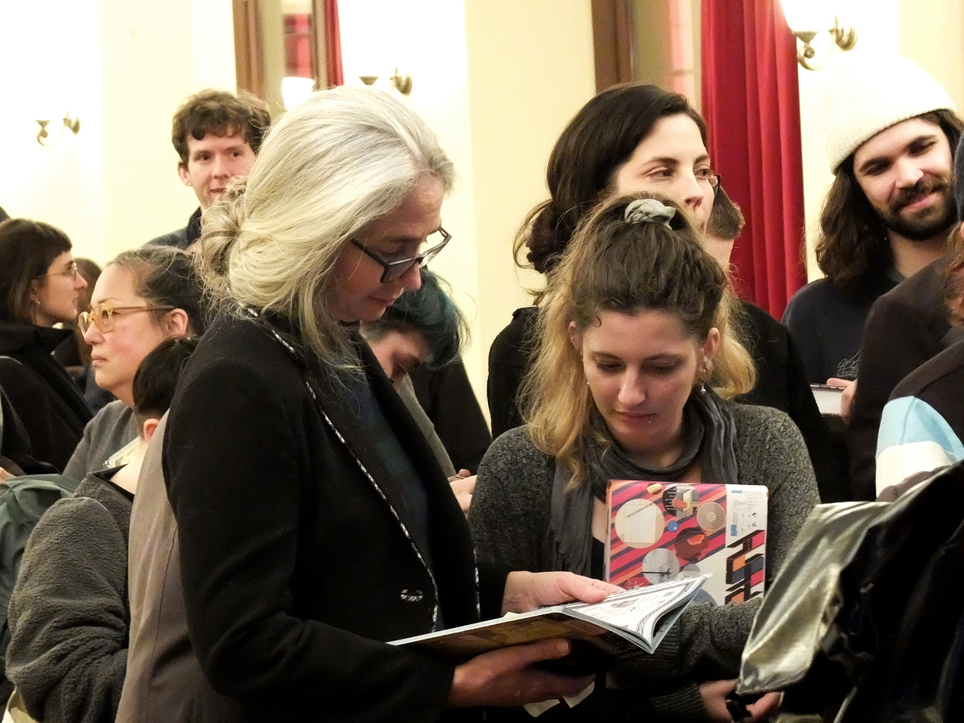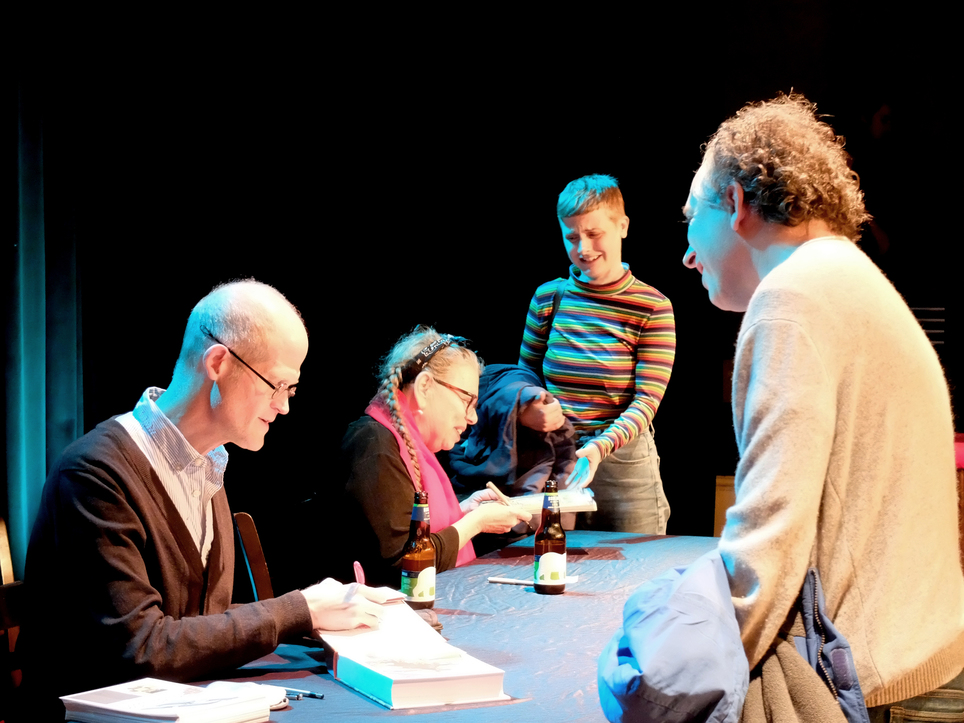 Thanks to everyone for making this such a special night. Of course, special thanks to Lynda Barry and Chris Ware for being wonderful human beings.
We love you.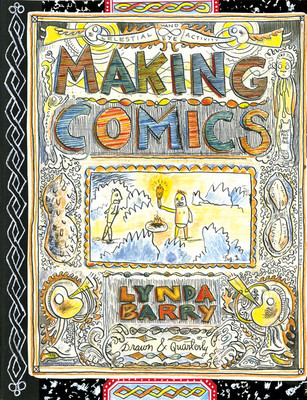 Making Comics
Lynda Barry
The idiosyncratic curriculum from the Professor of Interdisciplinary Creativity will teach you how to draw and write your story Hello students, meet Professor Skeletor....
More Info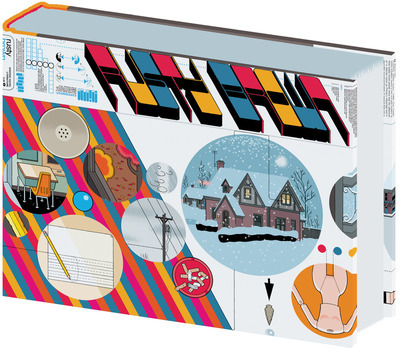 Rusty Brown
Chris Ware
A major graphic novel event more than 16 years in progress: part one of the ongoing bifurcated masterwork from the brilliant and beloved author...
More Info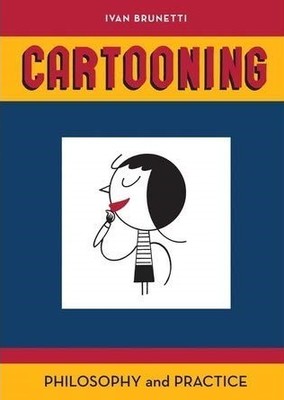 Cartooning: Philosophy and Practice
Ivan Brunetti
From the editor of Yale's Anthology of Graphic Fiction, Cartoons, and True Stories, a smart and charming guide to the art of cartooningThe best cartooning...
More Info