We are hiring! Nous embauchons!
June 3, 2019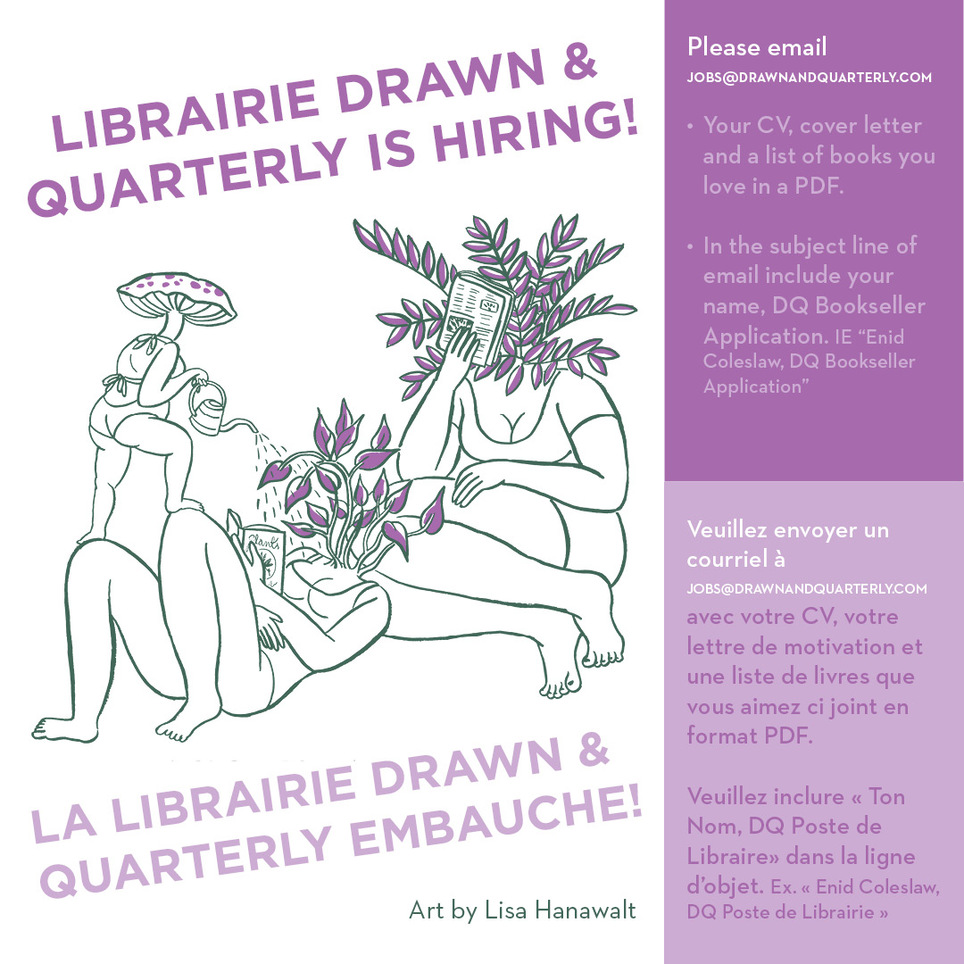 Librairie Drawn & Quarterly is hiring! Are you a book lover? Be a Bookseller!
We are looking for a part-time Bookseller to help with the daily operations of our bilingual comics / contemporary literature / art / children's literature bookstore, Librairie Drawn & Quarterly and La Petite Librairie Drawn & Quarterly, located at 211+176 Bernard Street West.

Ideal candidates should have retail experience as well as a strong understanding of th international comics and literary publishing industry, ranging from New York Review of Books, Alto, and New Directions to Pow Pow and Koyama Press with an emphasis on the Canadian independent landscape and our local authors and cartoonists. Candidates will be knowledgeable of books and cartoonists published by Drawn & Quarterly as well as D+Q's place in both contemporary comics, literature and retailing. Booksellers must love to read bothgraphic novels and contemporary literature.
The ideal candidate has experience working in bookstores and is completely bilingual in French and English.
Responsibilities:
* Reading! Every newly published Drawn & Quarterly graphic novel, classics and bestsellers. Must be an avid reader of both books and book culture.
* Delighting customers, handselling, and building repeat business. Must feel comfortable discussing books in public and open to differences of opinion and civil discourse.
* Contributing to a continuous and active Social Media profile for the store including facebook, instagram, twitter.
* Being friendly and outgoing. People skills and customer service are a must. Need to be able to act as a host during book launches and speak in public on stage to introduce invited authors.
* Maintaining positive relationships with other members of the sales team and working as part of a team.
* Engaging with local cartoonists and members of the writing community.
* Assisting customers when they have questions, concerns or complaints.
* Being available to work in-store, off site events and industry events such as rep meetings and library conferences.
* Using our POS system: run restock & sales reports, replenish floor stock, receive and shelve incoming books, return old stock, and flag any issues to management
* Liaise with the D+Q publishing headquarters as needed.
Requirements:
*Must love to read.
*Have a belief in and understands the realities of independent retailing and publishing.
* Proven experience at excellent customer service
* Outstanding communication and interpersonal abilities. Flexible and open to different opinions. Willingness to learn new things. Must be able to take direction as well as able to work independently.
* Excellent organization and leadership skills.
* Must be able to work weekends and evenings, as well as Dec 15-Jan 5
* Knowledge of comics/book industry
* Must be computer literate in Microsoft word programs (excel) and Google Docs with ability to learn new programs with ease and efficiency.
* Flair for creative merchandising and window displays.
* Must be able to lift 70 lbs. And be able to lift boxes of books.
* Bilingual: EN/FR Comfortable reading, writing and speaking in both languages.
Assets
* Knowledge of Bookmanager
* Asana, WhenIWork, Google Drive and apps
* Driver's Licence
* Lives in close proximity to the store
* First Aid
* Other languages skills beyond French and English
This position would require you to work between 15 and 30 hours per week. If you are interested in applying, please email jobs@drawnandquarterly.com :
A CV, cover letter and a list of books you love in a PDF attachment. In the subject line of email include your name, DQ Bookseller Application. IE "Enid Coleslaw, DQ Bookseller Application"
We encourage people of all backgrounds to apply, including people of color, immigrants, LGBTQ+, people with disabilities, women, and those with diverse life experiences.
****
La librairie Drawn & Quarterly embauche!
Description du poste - Libraire
Nous sommes à la recherche de personnes intéressées à devenir libraire à la Librairie Drawn & Quarterly, située au 211, Rue Bernard Ouest et à la Petite Librairie Drawn & Quarterly, situéeau 176 Rue Bernard Ouest . Les postes à combler consistent à des emplois à temps partiel (environ 15 à 30 heures par semaine) permanents et saisonniers. Nos librairies proposent des livres en français et en anglais, et sont spécialisées dans la bande dessinée, la littérature contemporaine, les livres d'art et les livres pour enfant.
La personne idéale devrait avoir de l'expérience dans la vente au détail ainsi qu'une solide connaissance du secteur de l'édition littéraire et de la bande dessinée internationale, allant de la New York Review of Books, Alto et New Directions à Pow Pow et Koyama Press, en mettant l'accent sur le paysage indépendant du Canada et nos auteurs et dessinateurs locaux. Elle connaîtra les livres et les dessinateurs publiés par Drawn & Quarterly et la place que s'est taillée D+Q dans la bande dessinée et la littérature contemporaine ainsi que la vente au détail. Elle doit aimer lire à la fois les romans graphiques et la littérature contemporaine.
Le candidat idéal a de l'expérience de travail en librairie et possède une excellente maîtrise du français et de l'anglais.
Responsabilités :
* Lire ! Tous les romans graphiques, classiques et best-sellers nouvellement publiés chez Drawn & Quarterly.
* Le candidat doit présenter un intérêt marqué pour la lecture et le livre.
* Faire le bonheur des clients, leur offrir un service personnalisé de façon à en faire des clients fidèles. Être à l'aise pour discuter de livres en public et être ouvert aux différences d'opinion et de discours civil.
* Contribuer à la présence continue et active de la librairie sur les plateformes de réseaux sociaux, notamment Facebook, Instagram et Twitter.
* Être amical et sociable. Les capacités relationnelles et l'excellence en service à la clientèle sont un impératif.
* Être capable d'animer les lancements de livres et de parler en public pour présenter les auteurs invités.
* Maintenir de bonnes relations avec d'autres membres de l'équipe de vente et travailler en équipe.
* Travailler avec des dessinateurs locaux et des membres de la communauté littéraire.
* Aider les clients lorsqu'ils ont des questions, des préoccupations ou des plaintes.
* Être disponible pour travailler en magasin et hors site lors de la tenue d'évènements à l'extérieur ou dans l'industrie comme les réunions de représentants et les conférences de libraires.
* Utiliser notre système de points de vente : exécuter des rapports de réacheminement et de vente, reconstituer le stock de plancher, recevoir les nouveautés et les mettre en place, faire les retours et signaler tout problème à la gestion.
* Assurer la liaison avec le siège de D+Q au besoin.
Exigences
* Le candidat idéal aime lire.
* Excellente compréhension des réalités de la vente au détail et de la publication indépendante.
* Excellence démontrée en service à la clientèle.
* Excellente capacité de communication et capacités interpersonnelles. Flexible et ouvert aux différentes opinions.
* Volonté d'apprendre de nouvelles choses.
* Autonomie, aptitude à travailler de façon autonome.
* Excellente organisation et compétences de leadership.
* Disponible la plupart des week-ends et quelques soirées, ainsi que du 15 décembre au 5 janvier
*Excellentes connaissances de la bande dessinée et de l'industrie du livre.
*Bonne connaissance des logiciels Word, Excel et Google Docs, capable d'apprendre à utiliser de nouveaux programmes avec facilité et efficacité.
*Flair pour la mise en marché créative et les affichages de Windows.
*Doit pouvoir soulever 70 lb. et des boîtes de livres.
*Bilingue : excellente maîtrise du français et de l'anglais, tant à l'oral qu'à l'écrit.
Atouts
*Connaissance de Bookmanager, Asana, WhenIWork, Google Drive et les applications
*Permis de conduire
*Habite à proximité du magasin
*Formation aux premiers secours
*Connaissance d'autres langues
Ce poste vous obligerait à travailler entre 15 et 30 heures par semaine. Si vous souhaitez présenter votre candidature, veuillez envoyer un courriel à jobs@drawnandquarterly.com avec votre CV, votre lettre de motivation et une liste de livres que vous aimez ci joint en format PDF . Veuillez inclure « Ton Nom, DQ Poste de Libraire» dans la ligne d'objet. Ex. « Enid Coleslaw, DQ Poste de Librairie »