We're Hiring! Nous embauchons! - Closed
June 25, 2020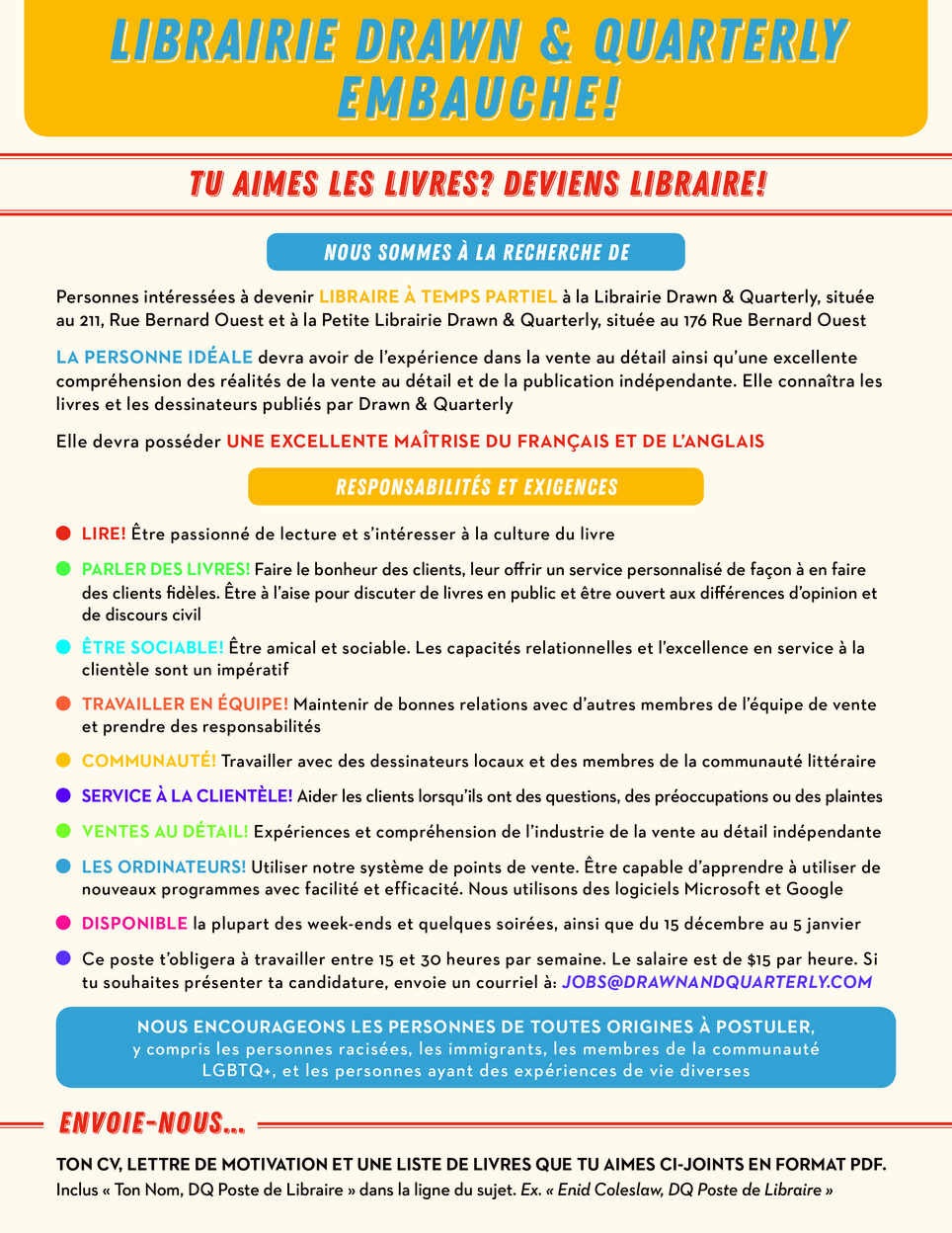 ARE YOU A BOOK LOVER? BE A BOOKSELLER!
***Our hiring period is now officially closed, but we accept CVs at all times***
WE ARE LOOKING FOR
A PART-TIME BOOKSELLER to help with the daily operations of our bookstores: Librairie Drawn & Quarterly and La Petite Librairie Drawn & Quarterly, located at 211+176 Bernard Street West.

IDEAL CANDIDATES should have retail experience; a love of reading; an understanding of international literary publishing; and knowledge of Drawn & Quarterly
ALL CANDIDATES MUST BE FULLY BILINGUAL
RESPONSIBILITIES & REQUIREMENTS
READING! Must be an avid reader of both books and book culture
TALKING BOOKS! Delighting customers, handselling, discussing books in public and open to differences of opinion
PEOPLE SKILLS! Being friendly and outgoing, good at customer service
TEAM WORK! Working as part of a team, taking direction
COMMUNITY! Engaging with local cartoonists, writers and poets
CUSTOMER SERVICE! Assisting customers when they have questions, concerns or complaints
RETAIL! Experience and understanding of independent retailing
COMPUTERS! Our point-of-sales system requires candidates to be adept at learning new software (we also use Microsoft, and Google programs)
MUST BE ABLE TO WORK weekends and evenings, as well as Dec 15-Jan 5
This position would require you to work between 15-30 hours per week. The salary is $15 an hour. If you are interested in applying, please email: JOBS@DRAWNANDQUARTERLY.COM
WE ENCOURAGE PEOPLE OF ALL BACKGROUNDS TO APPLY, including people of colour, immigrants, LGBTQ+, and those with diverse life experiences
PLEASE SEND US
A CV, COVER LETTER, AND A LIST OF BOOKS YOU LOVE IN A PDF ATTACHMENT. In the subject line of your email include your name, DQ Bookseller Application. i.e. "Enid Coleslaw, DQ Bookseller Application"
**********
TU AIMES LES LIVRES? DEVIENS LIBRAIRE!
NOUS SOMMES À LA RECHERCHE DE

Personnes intéressées à devenir LIBRAIRE À TEMPS PARTIEL à la librairie Drawn & Quarterly, située au 211, Rue Bernard Ouest et à la Petite Librairie Drawn & Quarterly, située au 176 Rue Bernard Ouest

LA PERSONNE IDÉALE devra avoir de l'expérience dans la vente au détail ainsi qu'une excellente compréhension des réalités de la vente au détail et de la publication indépendante. Elle connaîtra les livres et les dessinateurs publiés par Drawn & Quarterly


Elle devra posséder UNE EXCELLENTE MAÎTRISE DU FRANÇAIS ET DE L'ANGLAIS
RESPONSABILITÉES ET EXIGENCES
LIRE!

Être passionné de lecture et s'intéresser à la culture du livre

PARLER DES LIVRES! Faire le bonheur des clients, leur offrir un service personnalisé de façon à en faire des clients fidèles. Être à l'aise pour discuter de livres en publics et être ouvert aux différences d'opinion et de discours civil
ÊTRE SOCIABLE! Être amical et sociable. Les capacités relationnelles et l'excellence en service à la clientèle sont un impératif
TRAVAILLER EN ÉQUIPE! Maintenir de bonnes relations avec d'autres membres de l'équipe de vente et prendre des responsibilités
COMMUNAUTÉ! Travailler avec des dessinateurs locaux et des membres de la communauté littéraire
SERVICE À LA CLIENTÈLE! Aider les clients lorsqu'ils ont des questions, des préoccupations au des plaintes
VENTES AU DÉTAIL! Expériences et compréhension de l'industrie de la vente au détail indépendante
LES ORDINATEURS! Utiliser notre système de points de vente. Être capable d'apprendre à utiliser de nouveaux programmes avec facilité et efficacitéé Nous utilisons des logiciel Microsoft et Google
DISPONIBLE la plupart des week-ends et quelques soirées, ainsi que du 15 décembre au 5 janvier
Ce poste t'obligera à travailler entre 15 et 30 heures par semaine. Le salaire est de 15$ par heure. Si tu souhaites présenter ta candidature, envoie un courriel à: JOBS@DRAWNANDQUARTERLY.COM
NOUS ENCOURAGEONS LES PERSONNES DE TOUTES ORIGINES À POSTULER, y compris les personnes racisées, les immigrants, les membres de la communauté LGBTQ+, et les personnes ayant des expériences de vie diverses
ENVOIE-NOUS
TON CV, LETTRE DE MOTIVATION ET UNE LISTE DE LIVRES QUE TU AIMES CI-JOINT EN FORMAT PDF. Inclus «
Ton Nom, DQ Poste de Libraire
»
dans la ligne du sujet. Ex.
«Enid Coleslaw, DQ Poste de Libraire
»