CLOSED - We're Hiring! Nous Embauchons!
August 9, 2022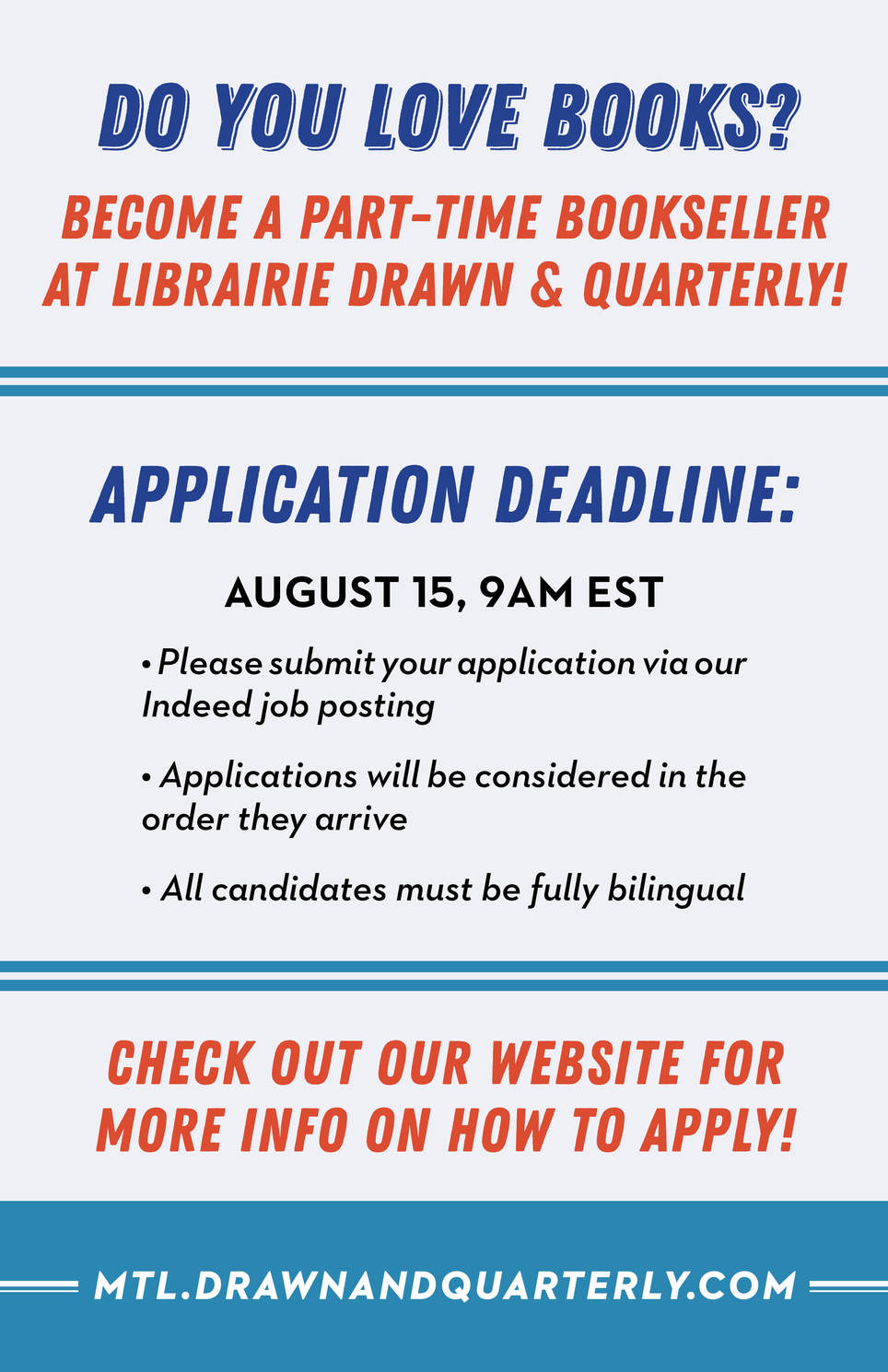 WE ARE LOOKING FOR A PART-TIME BOOKSELLER to help with the daily operations of our two bookstores: Librairie Drawn & Quarterly and La Petite Librairie Drawn & Quarterly, located at 211 and 176 Bernard Street West. Must be able to work 16 - 32 hours a week. Starting wage is $15.50/hr. The candidate must be available for regular shifts on weekends, evenings, and from December 1st to January 10th.
IDEAL CANDIDATES will have retail experience; a love of reading; an understanding of book publishing; knowledge of Drawn & Quarterly and enjoy working with the public.
ALL CANDIDATES MUST BE FULLY BILINGUAL.
PLEASE SUBMIT YOUR APPLICATION VIA OUR INDEED JOB POSTING. YOU WILL BE REQUIRED TO INCLUDE: A CV, A COVER LETTER, AND A LIST OF BOOKS YOU LOVE IN A PDF ATTACHMENT.
RESPONSIBILITIES & REQUIREMENTS:
READING! Must be an avid reader of comics, books, and book culture
TALKING BOOKS! Delighting customers, handselling, discussing books in public and open to differences of opinion
PEOPLE SKILLS! Being friendly and outgoing, providing good customer service online, by phone, and in person
TEAM WORK! Working as part of a team, taking direction
COMMUNITY! Engaging with local cartoonists, writers, and poets
CUSTOMER SERVICE! Assisting customers when they have questions, concerns or complaints via email, by phone, and in person
RETAIL! Experience and understanding of independent retailing
COMPUTERS! Our point-of-sales system requires candidates to be adept at learning new software (we also use Microsoft, Google apps, and Zoom)
MUST BE ABLE TO WORK evenings and weekends, as well as Dec 1-Jan 10

MUST BE ABLE TO lift up to 40 lbs
Librairie Drawn & Quarterly is actively committed to employment equity and a more inclusive workspace. We encourage people of all backgrounds to apply, including Indigenous peoples, Black people, members of racialized groups, immigrants, 2SLGBTQIA+, people of all ages, those with diverse life experiences, and members of other historically marginalized communities.
Part-time hours: 16 - 32
Application deadline: DATE
Job Types: Part-time, Permanent
Salary: From $15.50 per hour
COVID-19 considerations:
Librairie D+Q takes the utmost precaution in COVID 19 safety regulations. We practice social distancing and wear masks.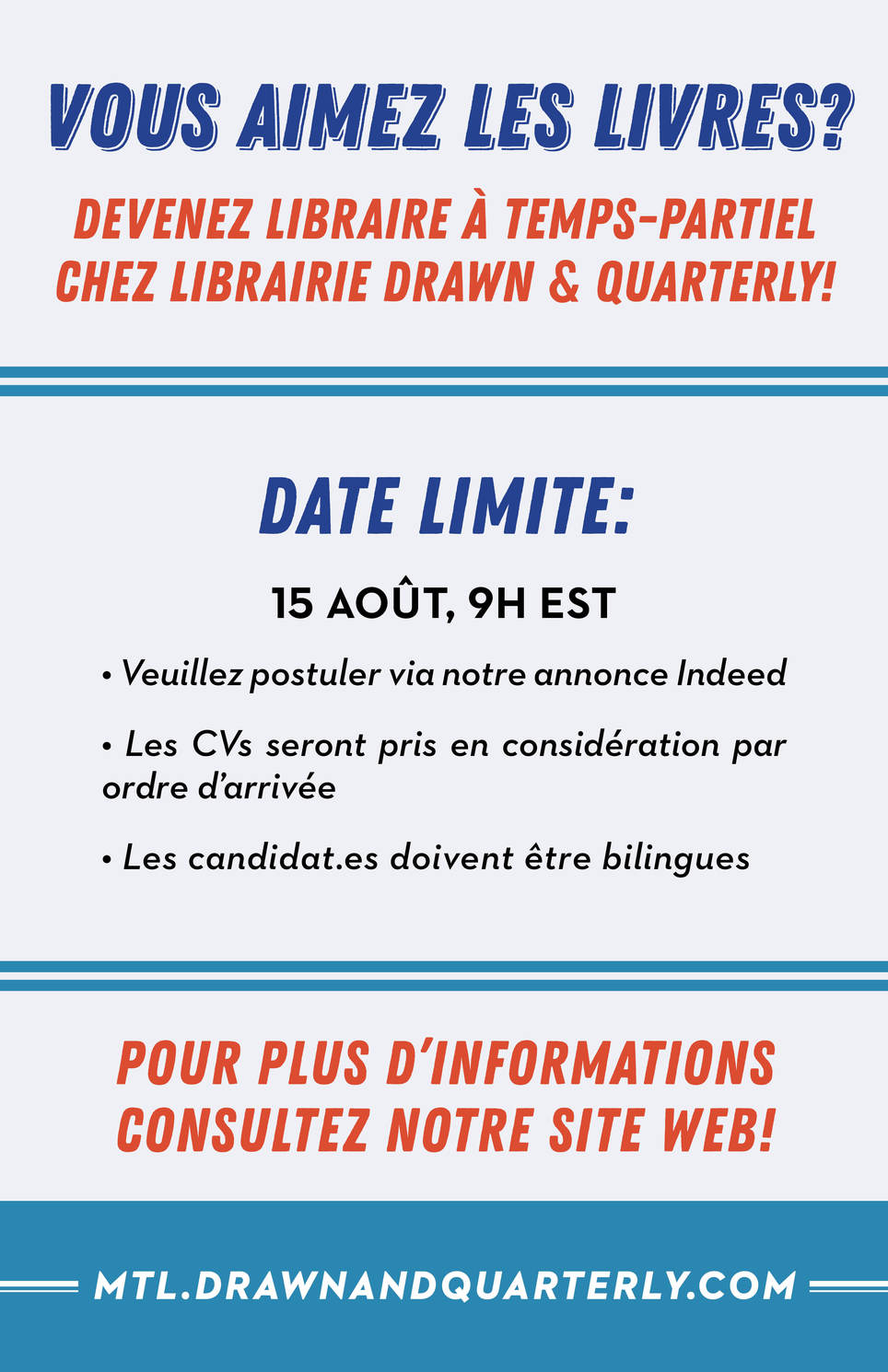 NOUS RECHERCHONS UN.E LIBRAIRE À TEMPS PARTIEL pour nous aider dans le fonctionnement quotidien de nos librairies pour adultes et enfants, Librairie Drawn & Quarterly et La Petite Librairie Drawn & Quarterly, situées au 211 et 176, rue Bernard Ouest. Vous devez être en mesure de travailler 16 - 32 heures par semaine. Le salaire de départ est de 15.50 $/h. La personne qui présente sa candidature doit être disponible pour des quarts de travail réguliers en fin de semaine, en soirée, et du 1er décembre au 10 janvier.

LA PERSONNE IDÉALE a de l'expérience dans la vente au détail, adore lire, comprend les rouages de l'édition, connaît la maison d'édition Drawn & Quarterly et aime travailler avec le public.
LES CANDIDAT.ES DOIVENT ÊTRES ENTIÈREMENT BILINGUE.
VEUILLEZ FAIRE PARVENIR VOTRE CANDIDATURE VIA NOTRE OFFRE D'EMPLOI INDEED ET Y INCLURE VOTRE CV, UNE LETTRE DE MOTIVATION ET UNE LISTE DES LIVRES QUE VOUS AIMEZ EN PIÈCE JOINTE EN FORMAT PDF.
RESPONSABILITÉS ET EXIGENCES GÉNÉRALES:
LIRE ET PARLER DES LIVRES! Être un.e lecteur.ice avide à la fois de livres, de BDs, et de tout ce qui touche la culture du livre
COMPÉTENCES HUMAINES! Être amical et extraverti, fournir un bon service client en ligne, par téléphone et en librairie
COOPÉRATION! Travailler en équipe, suivre les directives
COMMUNAUTÉ! S'engager avec les dessinateur.es de BDs, les écrivain.es et les poètes locaux
SERVICE À LA CLIENTÈLE! Répondre aux questions, préoccupations ou plaintes par courrier électronique, par téléphone et en librairie
VENTE AU DÉTAIL! Expérience et compréhension du commerce de détail indépendant
DOIT ÊTRE EN MESURE DE TRAVAILLER la fin de semaine, le soir si nécessaire, et être disponible chaque année entre le 1 décembre et le 10 janvier

DOIT ÊTRE CAPABLE DE SOULEVER jusqu'à 40 lbs
Drawn & Quarterly s'engage à créer un lieu de travail plus inclusif et équitable en matière d'emploi. Nous encourageons les personnes de tout contexte à présenter leur candidature, y compris ceux de peuples Autochtones, les personnes Noires, les personnes racisées, les immigrant.e.s, les membres de la communauté 2SLGBTQIA+, les personnes de tout âge, celles qui ont des expériences de vie diverses et les membres d'autres communautés historiquement marginalisées.
Type d'emploi: Temps partiel
Salaire: $15.50 de l'heure
Part-time hours: 16 - 32 heures par semaine
Application deadline: 15 août, 9h EST
Type d'emploi : Temps Partiel, Permanent
Mesures COVID-19:
La Librairie D+Q prend les plus grandes précautions en ce qui concerne les règles de sécurité liées à la COVID-19. Nous pratiquons la distanciation sociale et portons des masques.