D+Q Donation to Native Women's Association of Canada
September 28, 2021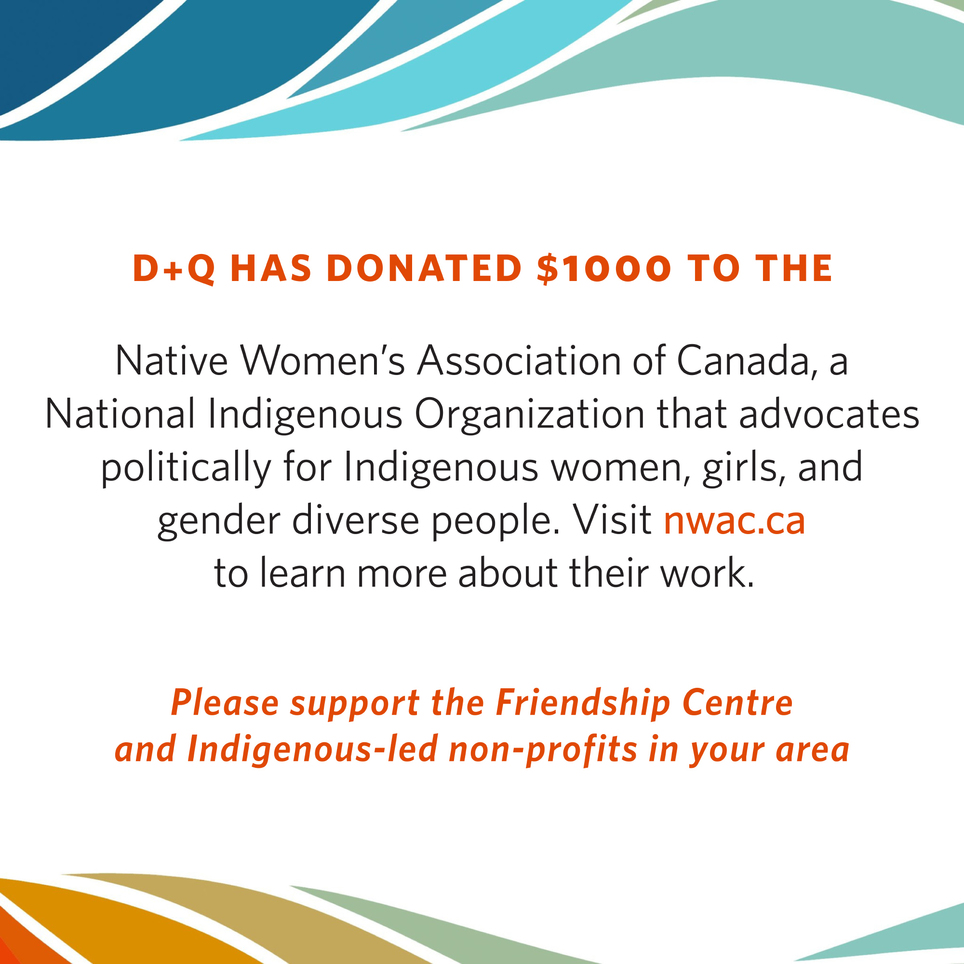 D+Q has donated $1000 to the Native Women's Association of Canada, ahead of the September 30th National Day for Truth and Reconciliation.
NWAC is a National Indigenous Organization representing the political voice of Indigenous women, girls and gender diverse people in Canada, inclusive of First Nations on and off reserve, status and non-status, disenfranchised, Métis and Inuit. Through advocacy, policy and legislative analysis, NWAC works on a variety of issues such as employment, labour and business, health, violence prevention and safety, justice and human rights, environment, early learning childcare and international affairs. NWAC also hosts an annual vigil for missing and murdered Indigenous women, girls, and gender-diverse people (MMIWG2S). The Sisters in Spirit Vigil will take place virtually on October 4th at 2 pm.
September 30 is a day to honour Survivors, their families, and communities, and ensure that public commemoration of the history and legacy of residential schools remains a vital component of the reconciliation process. The creation of this statutory holiday marks the enactment of one of the 94 calls to action that were included in the Truth and Reconciliation Commission's final report.
This week also marks one year since the wrongful death of Joyce Echaquan at the hands of medical staff. We remember her and continue our calls for Justice for Joyce.
We encourage you to seek out and support the Friendship Centres and Indigenous non-profits in your area. In Montreal, that includes the Native Friendship Centre, the Native Women's Shelter of Montreal, and Resilience Montreal (who recently posted a list of items needed for donation). There will be a march here on Thursday September 30 at 1 pm, organized by the Native Women's Shelter of Montreal and the Assembly of First Nations Quebec-Labrador (AFNQL).